Comfort Keepers Alzheimer's and Dementia Care in Erie, PA, and Surrounding Areas
We can help provide Alzheimer's and Dementia care for your loved one at home, giving you the support you need in Erie, Fairview, PA, and the surrounding areas.
Caregiving for a loved one at home who has Dementia or Alzheimer's can be physically and emotionally exhausting. We understand familial caregivers' challenges and can help alleviate some burdens. Comfort Keepers Home Care® offers specialized Alzheimer's and Dementia Care in Erie, PA, and the surrounding areas for individuals diagnosed with Dementia or Alzheimer's disease. Our Comfort Keepers® caregivers have received specialized training and are prepared to assist your loved one in receiving this specialized long-term care without ever leaving their home. We are available part-time, full-time, or round-the-clock, depending on your loved one's needs. Call (814) 204-2838 to learn more!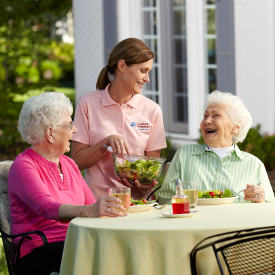 What are Dementia and Alzheimer's Care?
Dementia is a significant decline in mental ability that impairs a person's daily life, such as memory loss or the inability to perform familiar tasks. Alzheimer's disease is the most common type of Dementia, accounting for between 50% and 80% of cases. Our Dementia and Alzheimer's care services are here to assist seniors experiencing these symptoms by focusing on their remaining abilities and strengths while aiding them with tasks that have become more difficult to complete alone.
Our expert Alzheimer's and Dementia care Comfort Keepers® caregivers can:
Help maintain a safe environment for your loved one.
Engage your senior relative in activities stimulating their senses, such as listening to music and dancing.
Provide healthy meals and bathing assistance.
Support the client and family through the changing behaviors often seen with Dementia.
Contact Us
We customize our in-home care to each client's specific needs, considering their health and ability to perform daily responsibilities. Comfort Keepers can provide home health care services for as little as a few hours per week or as much as full-time around-the-clock care, depending on the requirements of your loved one. Our caregivers provide dementia and Alzheimer's care and support in shifts to your loved one through our 24-hour senior care service to ensure their safety and wellness at home. As a result, clients and their families can have complete peace of mind. To learn more about Comfort Keepers Alzheimer's or Dementia care services in Erie, PA, and the surrounding areas, call (814) 204-2838 or select one of the options below.