Family Owned Home Care Agency that serves Peoria, IL and the Surrounding Areas
Comfort Keepers home care agency goes above and beyond to exceed expectations in Peoria, IL
A father-daughter team, Paul and Julie, have been in the shoes of so many of the families that we serve, and caring for others comes naturally to the Carnegie's. One of Julie's earliest influences was when Grandma and Grandpa moved to Illinois to be closer to Paul and his family. The Carnegie family pitched in to provide most of the home care needed. In time, Julie would be the driving force behind finding a professional home care agency in Peoria IL for her own mother. Owning and operating a Comfort Keepers office made the process much easier. Over the years, the business has remained a family-oriented venture. Julie's husband, Dave, joined the home care agency business in 2004 and Paul's oldest daughter has been providing for our clients from the very beginning.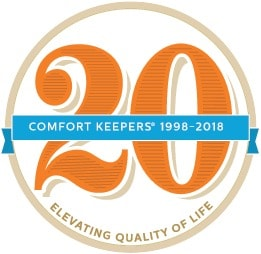 Comfort Keepers Home Care Mission
Our mission is to provide our clients with the highest level of quality of life that is achievable through customized in-home care plans. We treat each of our clients with the respect and dignity they deserve, as though we were caring for a member of our own family.
The special people who live by the values of our home care agency (We call them Comfort Keepers®.) are carefully selected, screened, and trained to provide professional, compassionate care.
Our Philosophy
Interactive Caregiving™ is based on four primary pillars, which Comfort Keepers home care agency leverages to care for, engage, and interact with our clients:
An active senior mind promotes independence, better mental and physical health, happiness, and a longer life.
A physically active senior maintains strength and independence, lessening or delaying the effects of aging.
A well-nourished senior is more energetic, both physically and mentally.
A safe senior lives in an environment that reduces the likelihood of accidents and promotes timely response when illness or accidents occur.
With our Interactive Caregiving approach, we are able to raise seniors' quality of life to a much higher level than typical in-home care providers.
Contact us online or call us at (309) 213-9480 to learn more about our home care services in Peoria, IL and the surrounding areas.