Comfort Keepers Provides Home Care Solutions and Devices in South Denver, CO and the Surrounding Area
Comfort Keepers provides a variety of home care solutions for seniors who wish to live independently in Centennial, South Denver, Aurora, and nearby cities
Comfort Keepers offers a choice of senior home care solutions through our SafetyChoice products. Medical alert systems, medication reminder programs, and home monitoring devices can help your elderly loved one feel safe at home, even when they are alone. Our SafetyChoice products are intended to offer elders and those who care for them low-cost, dependable security and confidence.
Most seniors wish to remain independently at home, which they can do securely and pleasantly with our home care solutions. To learn more, contact Comfort Keepers today at (303) 214-9134 or continue reading below.
What Can You Do With Our SafetyChoice Products?
Not only may our SafetyChoice devices be used in conjunction with one of our quality care plans, but they can also be utilized to keep your loved ones safe while they are alone. A senior's health and quality of life, for example, might be jeopardized by a fall. The risk of missing or overdosing on a pharmacological dose, on the other hand, is just as high. People with dementia may also be at risk if they walk off or engage in hazardous activities.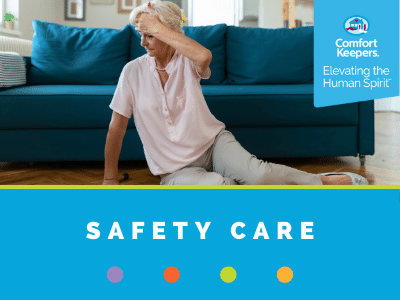 As a result, a family caregiver often faces the difficult task of combining respect for a loved one's freedom with the need to offer compassionate care services. While no one wants to upset their loved one, every family is concerned about the period between visits while alone.
Comfort Keepers provides more than just excellent home care solutions; we also employ technology to assist elders. Our broad selection of in-home safety devices can assist families in overcoming these obstacles.
Our SafetyCare Products in a Nutshell
Comfort Keepers' home monitoring systems are an excellent way to ensure the safety of your loved ones while you are away. Home monitoring and alert systems can help your loved ones be secure and independent in their own home.
---
Medication management is a common problem for seniors who live alone. It's all too easy to forget or take the wrong dose, especially for seniors who take many medicines throughout the day. Seniors can maintain their independence and quality of life with the assistance of a caregiver or the medication management tools provided by Comfort Keepers.
---
We understand the challenges that families encounter when a loved one is aging. Everyone wants to preserve their independence, which is getting more difficult as mobility diminishes with age. Seniors may achieve this more safely by installing a basic medical alert system. As a result, Comfort Keepers suggests SafetyChoice's Personal Emergency Response Systems (PERS). In an emergency, these devices give a quick, easy, and effective way to seek help.
---
Comfort Keepers offers a choice of accessories to improve the performance of your Personal Emergency Response System (PERS) at home. Lockboxes, extra pendants, and home safety evaluations are examples of such measures.
---
Schedule Your Free Consultation
We understand your want to give your loved one the finest possible care options. We also recognize that caring for someone on your own isn't always possible. When you can't be there, our SafetyChoice products and home care solutions provide you with peace of mind. Call our care team today to schedule a no-cost, no-obligation consultation with one of our care advisors. We'll assist you in determining the ideal option for your circumstance and will show you the many sorts of SafetyChoice products and home care solutions that would be suited for your loved one. Select one of the buttons below to get started.