In Home Dementia Care and Memory Care Services
in Carmel, CA
It is really hard when someone you know has memory loss. Millions of people in America suffer this. Our in home memory and dementia care can help your senior stay at home and be safe and comfortable. We offer free in home consultation and it all starts with a compimentary check of the home to make sure it is safe for them.
Comfort Keepers is an established and leading provider of care in Carmel, Carmel-By-The-Sea, and the surrounding areas of Monterey County. The care your loved one receives is different than that of assisted living and memory care facilities. We are there, one-on-one with your elderly loved one providing warm companionship and assisting with Activities of Daily Living (ADL).
One of the most difficult parts of Alzheimer's care is the need for constant supervision. Your loved one needs your help, and sometimes your help is needed more than ever. The tasks feel overwhelming, and the stress can be overwhelming.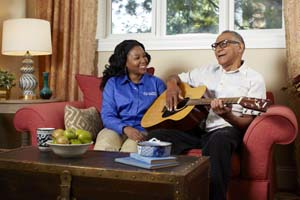 Caregiving plays an important role in providing care and support to people living with Alzheimer's and dementia. We offer in home dementia and memory care services in Carrmel that include assistance with personal care, household tasks, and errands, as well as trained and experienced memory care and Alzheimer's care. Other tasks our caregivers are trained to provide: assistance with daily tasks such as bathing, dressing, and feeding. Our professional caregivers also offer emotional support to you loved ones, which can help to improve their quality of life. While caregiving can be difficult, it is rewarding when you see the joy on your loved one's face when they realize we are there to help.
The care of an Alzheimer's patient can be stressful, and most of the time the care is provided by the immediate family. The care of a senior can be overwhelming when you don't know where to begin. A family caregiver needs to know that they will never be alone. This is how we help.
Our client care coordinators work closely with seniors in and near Carrmel Beach and their families to create personalized senior care plans that meet their unique needs. Our caregivers are trained to provide top-quality care and are dedicated to improving our clients' quality of life. We also offer a wide range of care options beyond Alzheimer's and dementia care including end of life care, respite care, and more. For a list of our available home care services please see our services list here.
Call us today at (831) 886-0475 to find out more or request a free assessment. You can also contact us online and we will get right back to you.