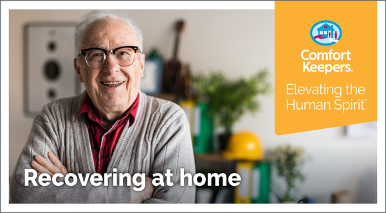 Managing pneumonia recovery at home can be challenging when done alone. This process can include:
💊 Continuation of an antibiotic, prescription medication, or a nebulizer for breathing treatments
🥗 Eating nutritious food and drinking plenty of water
😴 Ensuring ample sleep to aid the body's healing process
💧 Making breathing easier with cool mist humidifiers or vaporizers
Having a caregiver by your side can make all the difference. Let Comfort Keepers make recovering at home easier.
Source: https://www.comfortkeepers.com/info-center/category/senior-health-and-wellbeing/article/post-hospital-care-after-pneumonia