Elder Home Care That Supports A Healthy Diet in Fairfax, VA
When it comes to good senior nutrition, our services include caregivers trained in providing senior nutrition
One of the hardest parts of aging is finding out we can no longer handle simple daily tasks such as preparing meals.
Your loved one should never suffer from poor nutrition.
There are many things that start to fall by the wayside as we age, one of which is the ability and desire to prepare nutritious meals.  This often leads many seniors to live on a steady diet of processed and frozen foods.
Elder home care by Comfort Keepers in Fairfax, VA includes a caregiver who is trained to prepare nutritious and tasty meals.
Give us a call at (703) 520-2189 to learn more!
Why is Good Senior Nutrition for Seniors So Critical?
Part of growing old includes your loved one's mind and body going through a number of changes. They start to slow down and lose their sensitivity and when you add in the numerous medications they take, your loved one might:
Notice changes in their sense of taste
Start to see a decrease in appetite
Might find their body becomes slower at producing natural nutrients
Might find their body becomes slower at absorbing outside nutrients
If your loved one fails to eat nutritional foods they are more susceptible to illness, disease, broken bones, and poor mobility. Any injuries will take much longer to heal.
If you want to see your loved one continue to thrive, they must eat a healthy balanced diet every day. 
How Does Comfort Keepers Help?
Our caregivers are the "Caped Crusaders" of senior nutrition, the elder home care they offer includes providing your loved one with as much or as little help as they need in the kitchen by helping with:
Planning Daily Meals – our caregivers make planning meals fun, they like to share recipes and help your loved one stay on a healthy diet (including those ordered by doctors or are preferred such as vegetarian or vegan).
Going to the Store – when driving becomes too much for your loved one, our caregivers can do the driving for them and stay with them while shopping or they can take care of it all. We use your loved one's coupons to help save money.
Meal Prep – some seniors struggle with tasks such as cutting, chopping, peeling, and of course handling heavy pots and pans. As part of your loved one's elder home care, our caregivers can help. They can help your loved one use the tools needed (it's good for their hands and minds) or they can take care of everything and serve your loved one tasty healthy meals.
Feeding Assistance – aging, disease, illness, all can make it hard or impossible for your loved one to feed themselves. Our caregivers can assist without embarrassing your loved one and make meals that are easier for them to eat.
Putting Together a Tasty Meal Plan
Trying to pay the bills and buy healthy food on a fixed income can be very difficult for many seniors. To help cut their grocery costs, they turn to processed foods with little nutritional value. This problem is only exacerbated by the cost of medicines, supplements, and doctor's visits.
Rather than let your loved one live like this, there are numerous state and federal assistance programs they can turn to for help. Many, like Meals on Wheels, deliver hot foods daily and can deliver extra meals that are ready to heat and eat.
Here are some of the agencies:
Be sure you visit this website to learn more about the many benefits available to your loved one. 
Other ways to help your loved one save money include:
Watching for sales and coupons
Keeping foods stored in the fridge or freezer to extend their lives
Buying foods that are in season
Planting a garden of fruits and vegetables
Make a shopping list and stick to it
Looking for deals at the supermarket and comparing them to those at the farmer's market
Comparing food labels, just because an item costs more doesn't make it better!
Choosing fresh food options first
Most seniors don't need much in the way of calories, but they still need to eat a healthy diet to help reduce their risk of malnutrition. Our elder home care comes with caregivers who know how to prepare and cook delicious and nutritious meals.
This type of diet should include:
Protein/Fish
Low Fat Dairy
Whole Grain
Fruit
Vegetables
If you need more dietary information for your loved one, be sure you talk to their doctor. You should always read all nutrition labels very carefully as not all foods are as nutritious as the manufacturers' would have you believe.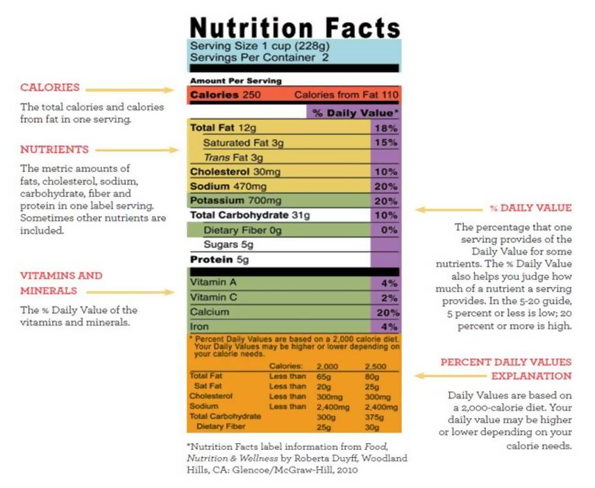 Image provided by the National Council On Aging
There is Nothing Wrong with the Occasional Treat
Just because your loved one needs to eat healthy doesn't mean they can't enjoy a few of their favorite dishes from time to time. The trick is to find healthier ways to prepare them such as cutting back on salt and fats.
Contact Us
Making sure your loved one is getting enough senior nutrition can be challenging. At Comfort Keepers, our elder home care comes with skilled caregivers who know how to help. For more information, contact Comfort Keepers of Fairfax, VA at (703) 520-2189 and talk to our specialist while scheduling your free care consultation.