Elderly Companion Care & Diabetes: Is Your Senior Too Sweet?
By: Louie J. Frucci, RN, CSA, CDP
The incidence of diabetes in Utah and the nation has been steadily increasing over the years. People can be diagnosed with diabetes at any age, but the risk increases as we get older. In 2011, almost 11 million older adults living in the U.S - nearly 27 percent of people 65 or older - had diabetes.* This makes it very important for elderly companion care experts to be aware of.
Diabetes is a chronic disease in which the body cannot make or properly use insulin. There are two types. In Type 1, the pancreas is simply not producing enough insulin. Type 2 diabetes, formerly called adult-onset diabetes or non insulin-dependent diabetes, is the most common form. This form of diabetes usually begins with insulin resistance, a condition in which the body cannot use insulin properly. At first, the pancreas keeps up with the added demand by producing more insulin. In time, however, it loses the ability to secrete enough insulin in response to food intake.
Type 2 diabetes is by far the most common type in seniors, accounting for over 90% of cases.
Though the underlying causes of diabetes in seniors are not fully known, it is known that lifestyle, aging and genetics all seem to play a part. Being overweight and a lack of exercise can both contribute to developing diabetes. Some of the changes that come about as we age, such as developing more fat in the middle of the body, may also play a role. Diabetes also tends to run in families, so it is important to let your elderly companion care provider know this.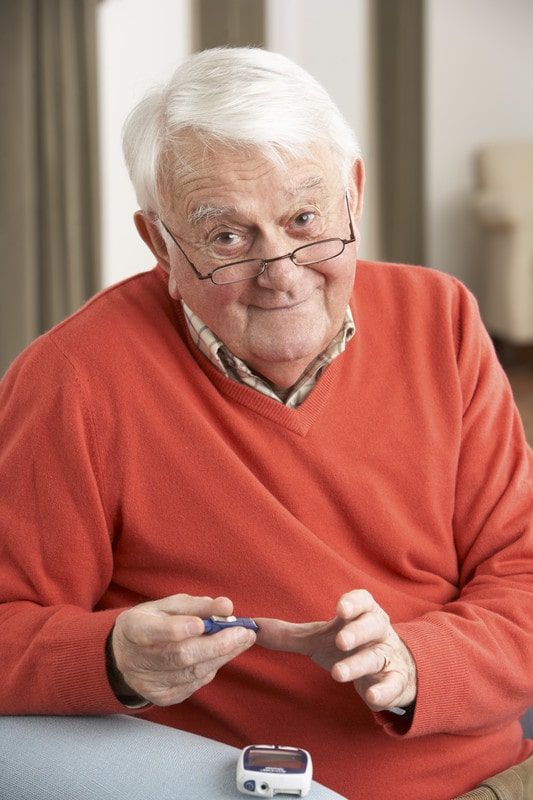 Diabetes is a serious condition associated with many complications. These include blocked arteries, nerve damage (especially in the hands and feet), loss of vision and kidney disease. The rates of heart attack, stroke, kidney failure and blindness are up to twice as high in seniors with diabetes. The main culprit in diabetes is high blood sugar. Signs of high blood sugar - usually due to having eaten too much, being under stress, or having too little insulin in the body – include frequent need to urinate, nausea, extreme thirst or hunger, blurred vision and confusion.
Diabetes is a self-managed disease, meaning those with diabetes must take responsibility for their day-to-day care. The chances of having diabetes complications can be reduced or delayed significantly by keeping blood sugar, blood pressure, and cholesterol levels within normal ranges. Routine check-ups with a health care provider who can manage these three factors are essential to managing the disease and its complications. Your loved ones elderly companion care specialist can also be there to keep them on track as well.
Diet and exercise are key in controlling diabetes. Choosing healthy foods is very important in keeping blood sugar levels under control. People with diabetes do not necessarily need to eat special foods because foods that are appropriate for diabetics are good for everyone in your family. Foods that are low in fat, salt, and sugar and high in fiber, such as beans, fruits, vegetables, and whole grains, are very important in managing diabetes. A nourishing diet will help seniors reach and maintain a weight that is healthy, keeps blood sugar in a desirable range, and prevents heart and blood vessel disease.
Regular physical activity is also very important. Participating in a regular fitness program has been shown to improve blood sugar levels in seniors. Remember to first talk to your health care provider before starting any new exercise program. Your provider may also refer you to a dietitian or a diabetic educator who can guide you through a specific diet and exercise regimen.
Two of the many elderly companion care services offered by Comfort Keepers includes assistance with meal planning and help with exercising, both of which can have a major affect on the disease. Please call us for a free in-home consultation and to see how we can help you or a loved one manage this damaging disease. You can reach out to us at (801) 383-2182.