Home Care Professionals: Exercise As The Key To Healthy Aging
By: Louie J. Frucci, RN, CSA, CDP
Have you ever considered running a marathon? Taking up bicycling? Hiking? Before you say "I'm in no shape to do that stuff", consider starting even a modest exercise program to improve your physical and mental well-being. "The golden years are better when good health and physical fitness became a way of life, not an occasional hobby." claims professionals working to provide home care professionals.
That philosophy is more important today than ever before, especially with so many Americans now classified as obese. As we age, leading an active lifestyle is vital. The debilitating effects of some chronic diseases may be mitigated and regular exercise helps seniors maintain health, boost energy, and improve confidence. No matter your age, your health status or your fitness level, you can benefit from some type of physical exercise.
You may feel discouraged by chronic health conditions or concerns about injury or falls, and if you've never exercised before, you may not know where to begin. Perhaps you think you're too old or frail. The truth is you can't afford NOT to engage in some form of physical activity. Exercise is the key to staying strong, energetic, and healthy as you get older. Not only is exercise good for your body—it's good for your mind, mood, and memory. If you have a professional providing home care professionals for loved ones in your family discuss any new exercise program with your provider in Provo, UT.
No matter your age or your current physical condition, you can benefit from exercise. By exercise, I'm not talking about strenuous workouts or trips to the gym. I'm talking about simply adding more movement and activity to your life. Here are a few health benefits of being more active.
Increase mobility and balance. Regular physical activity improves strength, flexibility and posture. This in turn will help with balance, coordination, and reduce the risk of falls. Strength training with light weights can also help alleviate the symptoms of arthritis and other joint ailments.
Maintain or lose weight. As we age, our metabolism slows and maintaining a healthy weight is more difficult. Exercise helps increase metabolism and builds muscle mass, helping to burn more calories.
Boost mood and self-confidence. Endorphins (the brains so-called natural morphine) produced by physical activity can help you feel better and reduce feelings of sadness or depression. This may lead to helping you feel more self confident and poised.
Reduce the impact of illness and chronic disease. Among the benefits of exercise are improved immune function and heart health, lower blood pressure, in addition to improved bone density and better digestive functioning. The risk of chronic conditions such as Alzheimer's disease, diabetes, obesity, heart disease, osteoporosis, and colon cancer may be reduced.
May improve brain function. Physical activity may benefit regular brain function and help keep the brain active, perhaps preventing memory loss, cognitive decline, and dementia. Exercise may help slow the progression of brain disorders such as Alzheimer's disease.
Improve your sleep. Poor sleep is NOT an automatic consequence of aging. Exercise often improves sleep, helping you fall asleep more quickly and sleep more deeply.
Have I convinced you yet? Are you ready to be more active and start an exercise program as part of your loved one's home care professionals? Before you get started, here are absolute rules to follow: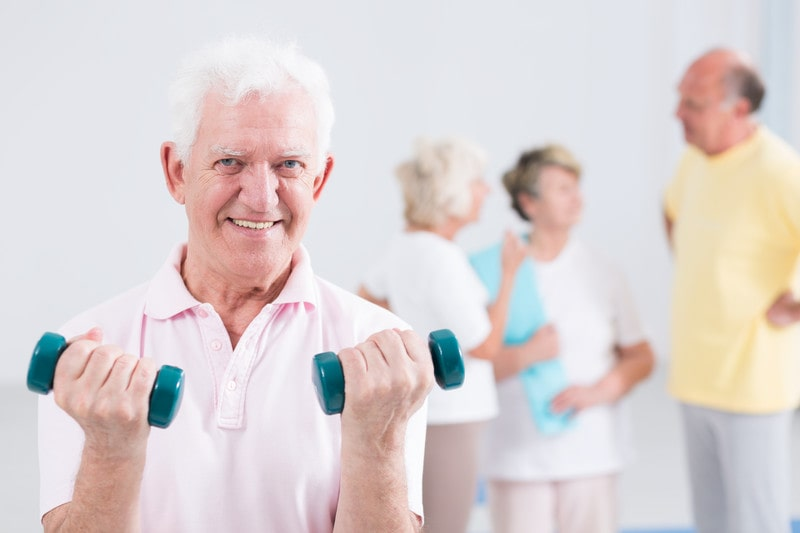 Get medical clearance!!! Do not begin ANY exercise program, or attempt to significantly increase your normal level of activity without talking with your health care provider. Make sure he or she knows what type of program you plan to start, and ask about any restrictions.
Consider health concerns. Be aware of how any exercise program may affect your chronic health problems. For example, diabetics may need to adjust the timing of medication and meals when increasing activity. If arthritis is a problem, consider low-impact exercises such as swimming or water aerobics.
Be the tortoise, not the hare. If you haven't been active for a while, start slow and build up your exercise program in small increments. Even a short walk in the morning two or three times a week is better than doing nothing. Contact your local senior center and inquiry about exercise classes at the center.
Understand your limits. Exercise should never cause pain or make you feel worse. Stop exercising immediately and call your doctor if you feel dizzy or short of breath, develop chest pain or pressure, break out in a cold sweat, or experience pain. Also stop if a joint is red, swollen, or tender to touch. You may need to scale back or try another activity.
If you or a loved one needs assistance in exercising or simply needs a helping hand while walking, call Comfort Keepers home care professionals, and ask about how our caregivers can be an exercise "partner". Contact us today at (801) 383-2182.