How Personal Home Care Services Can Help Detect Hunger & Malnutrition
By: Louie J. Frucci, RN, CSA, CDP
During this holiday season, most of us are planning for the events that will bring together friends and family – purchasing, preparing and enjoying more than adequate holiday feasts.  However, not all of our senior population can count on eating well during the holidays, or any other day of the year.   Without the help of services such as nursing homes or personal home care, the threat of hunger and malnutrition is becoming increasingly more common among the elderly.
This is a cause for national concern considering that more than 15% (over 8 million) of seniors in America today face the threat of hunger.  One would imagine that Utah would be among the states doing better than the nation as a whole, but Utah only ranks 25th overall at 14%, with Arkansas being the worse at 24% and Virginia the best at 8%.* Luckily, professionals can monitor your senior loved one an make sure they are eating properly.
Malnutrition is the lack of proper nutrition, not necessarily a lack of food, so even seniors who eat enough may be eating the wrong foods to keep themselves healthy.  Not all seniors with nutrition problems are thin — in some cases, malnutrition occurs in seniors who are overweight. Even many seniors in the care of others may be under- or mal-nourished. Sometimes the signs are apparent, but in other cases, detecting malnutrition in older adults may be difficult.  The causes are many:  Health issues, especially dental problems, can lead to malnourishment. Limited income, decreased social contacts, depression, alcoholism and restricted diets can also contribute.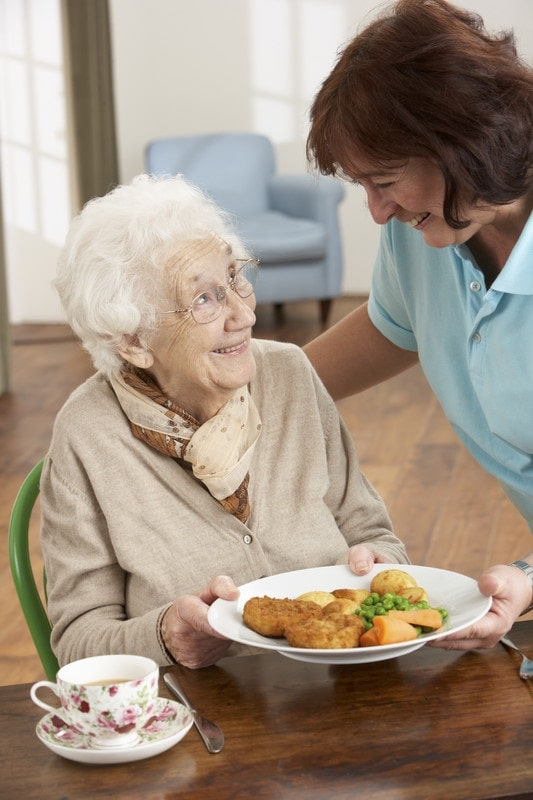 Personal home care services recommends some ways to monitor the nutrition of your loved ones, or other seniors you may know or visit:
Look for physical problems. Red flags for malnutrition might include poor wound healing, easy bruising, teeth or other dental problems and weight loss. Watch especially for signs of weight loss, such as changes in how clothing fits.
Observe their eating habits. Spend time with them during meals at home on a regular basis, not just on special occasions. If your loved one lives alone, find out who buys his or her food. If they are in a hospital or long term care facility, visit during mealtimes.
Know your loved one's medications. Many drugs affect appetite, digestion and nutrient absorption.
If there are medical questions regarding nutrition, medications or health issues, Comfort Keepers suggests that seniors, their family members or other caregivers speak with doctors about tests that can help identify chronic malnutrition or other nutrition-related problems
Included in the list of services provided by Comfort Keepers is grocery shopping, meal planning and meal preparation.  Having a caregiver in the home preparing healthy meals, and then offering companionship and support during the meal, may prevent nutritional deficiencies.
Comfort Keepers personal home care is proud to support the Salvation Army's annual Red Kettle Kick Off fundraiser and the Golden Angel Tree program.  The Golden Angel Tree program will identify homebound seniors, who often receive no gifts or assistance during the holidays, and give them the opportunity to choose something they may want or need for Christmas.
Comfort Keepers is dedicated to helping seniors live healthy, independent lives.  If you are in a position to help with this cause, please call the Salvation Army to find out how you can help with your generous donation of either time or money. For help for yourself or a loved one, please contact us at Comfort Keepers at (801) 383-2182. 
* National Foundation to End Senior Hunger