How Professional Home Care Help Prevent Dehydration in Seniors
By: Louie J. Frucci, RN, CSA, CDP
Last Sunday, I made my weekly phone call to my 90 year-old mother in Colorado.  To my dismay, she relayed the story about how two days earlier she was taken to the hospital for severe vomiting, weakness and muscle cramping.  The diagnosis in the emergency room was dehydration.  My mother is very active, lives alone, and is even still driving.  However, dehydration is a very insidious ailment that can slowly creep into a seniors' body. 
As we age, we become more susceptible to dehydration for several reasons:  Our body's ability to conserve water is reduced, and our sense of thirst becomes less acute, increasing the chance of consuming less water and consequently suffering from dehydration.  In addition, older adults, especially people living alone, tend to eat less or sometimes forget to eat or drink altogether. Disability or neglect also may prevent seniors from being well nourished. 
Dehydration is usually due to inadequate water intake, but can happen for other reasons, including diarrhea, excessive sweating (especially during the summer), loss of blood and diseases such as diabetes.  It is also a common side effect of some medications like diuretics (water pills). Luckily, experts that provide professional home care services are well aware of this issue.
Those providing help for loved ones should watch for these signs of dehydration: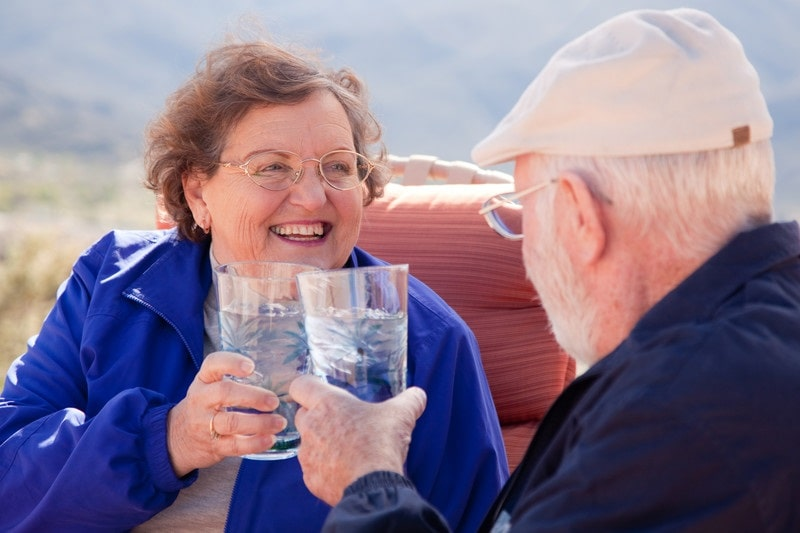 Mild dehydration:
Dryness of mouth; dry tongue with thick saliva
Unable to urinate or pass only small amounts of urine; dark or deep yellow urine
Cramping in limbs
Headaches
Weakness or general feeling of fatigue
Sleepiness or irritability
Serious dehydration:
Low blood pressure
Convulsions
Nausea and vomiting
Rapid but weak pulse
Dry and sunken eyes
Wrinkled skin; no elasticity
Breathing faster than normal
Much has been written and discussed about the importance of adequate fluid intake, but it is even more vital in the elderly.  Benefits especially pertinent in this population are less constipation (leading to a decrease usage of laxatives) and fewer urinary tract infections, or UTI's. A UTI in a senior can be a primary trigger for confusion.  Family members and professionals that provide professional home care services should make sure the older adult has water by their side at all times, and encourage frequent drinking in small to moderate amounts.
It is important NOT to wait until a person is thirsty to start offering fluids.  As mentioned earlier, seniors may not experience the sensation of thirst.   Encourage frequent small to moderate drinks of favorite fluids.  Minimize the number of beverages with caffeine or alcohol because of their diuretic effect (causes the kidneys to excrete more water) on the body.  When you see signs of mild or early dehydration, offer a sport drink to quickly replenish water and electrolytes needed by the body.
Severe dehydration requires medical attention; if you see any signs or even just suspect it, call a health care provider immediately.
Comfort Keepers professional home care services has been helping seniors live a better live at home for nearly 14 years.  We are the only personal care agency in Utah owned and operated by a registered nurse and physician assistant.  For a free in-home visit, contact us at (801) 383-2182.