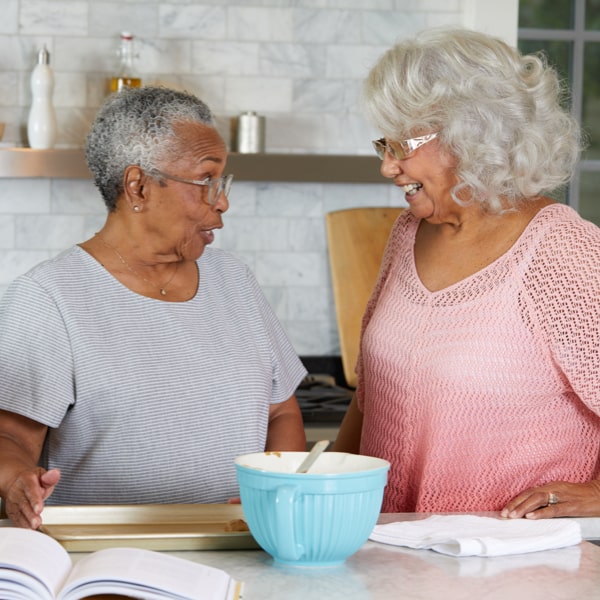 Home Care Services in Cypress, Copperfield and NW Houston, TX Area
Learn about our wide range of care services for seniors
One distinguishing factor that separates Comfort Keepers from other home care agencies is that we do NOT employ a one-size-fits-all approach to caregiving. As all seniors are unique and their situations different, our home care services are unique and customized to provide our beloved clients with assistance in those areas of daily living that they need help with the most.
We are proud to provide seniors in Houston, Cypress, Spring and the surrounding areas of Texas with a wide array of assistive services designed to boost the overall well-being and quality of life at home. We are on a mission to elevate life quality of our senior clients and their families every day.
Caring Is Essential
Our main focus is on providing clients with the highest quality of care – that is why our loving caregivers are thoroughly screened and extensively trained before becoming a member of our local Comfort Keepers family. Moreover, besides experience, we value personal qualities such as empathy, kindness, and dedication more than anything when selecting new caregivers.
Peace of Mind for Family Members
Our home care services are not only beneficial for older adults - we help families find peace of mind too. Whether you live out of town or have a hectic personal schedule to manage, we can offer you respite and put your mind at ease that your parent is receiving care from reliable caregivers while maintaining the lifestyle they choose.
Customized Care Plans that Meet Your Needs
Before we begin care, a care coordinator does an in-home visit. We come to your loved one's home to perform a detailed assessment and develop a care plan that is tailored to their unique situation and needs. In addition to this, we can also complete a free Home Safety Assessment and provide guidance on how to improve safety in the home.
The level of care and schedule of visits will largely depend on what kind of services your loved one requires. Some seniors are more independent than others, some get by with just occasional help with household chores, and some need or prefer 24-hour support.
Regardless of your parent's medical condition or needs, we possess the training and experience to provide your loved one with ample assistance, sufficient to maintain as comfortable a life at home as possible.
Call our office today at (346) 202-7209 to learn more about how our customized home care services can help your loved one in Houston, Cypress, and the surrounding areas, to continue living safely and happily at home for longer. We are here to help!