In Home Care in Barton Creek & Bee Cave Area
Comfort Keepers of Austin, TX provides compassionate in home care that seniors can rely on
Our highly trained caregivers not only create a plan of care that aligns with your loved ones' needs, they also help with social engagement and the preservation of independence. To help make this happen, we provide transportation to your loved ones' preferred destinations, if it's to Barton Creek Country Club for golf or to the Hill Country Galleria for some shopping. We can also offer transportation to the doctor's office or to the pharmacy for a prescription. No matter where they want to go, Comfort Keepers is ready to help make it happen.
Senior Care Services in Barton Creek & Bee Care Area
When your loved ones in the Barton Creek and Bee Cave area need compassionate, professional, in home care, they can rely on Comfort Keepers of Austin, TX. Our goal is to provide a wide variety of services tailored to the exact needs of those closest to you, whether they require personal services, such as bathing and grooming, or just companionship throughout the week.
Some of the services that we provide include: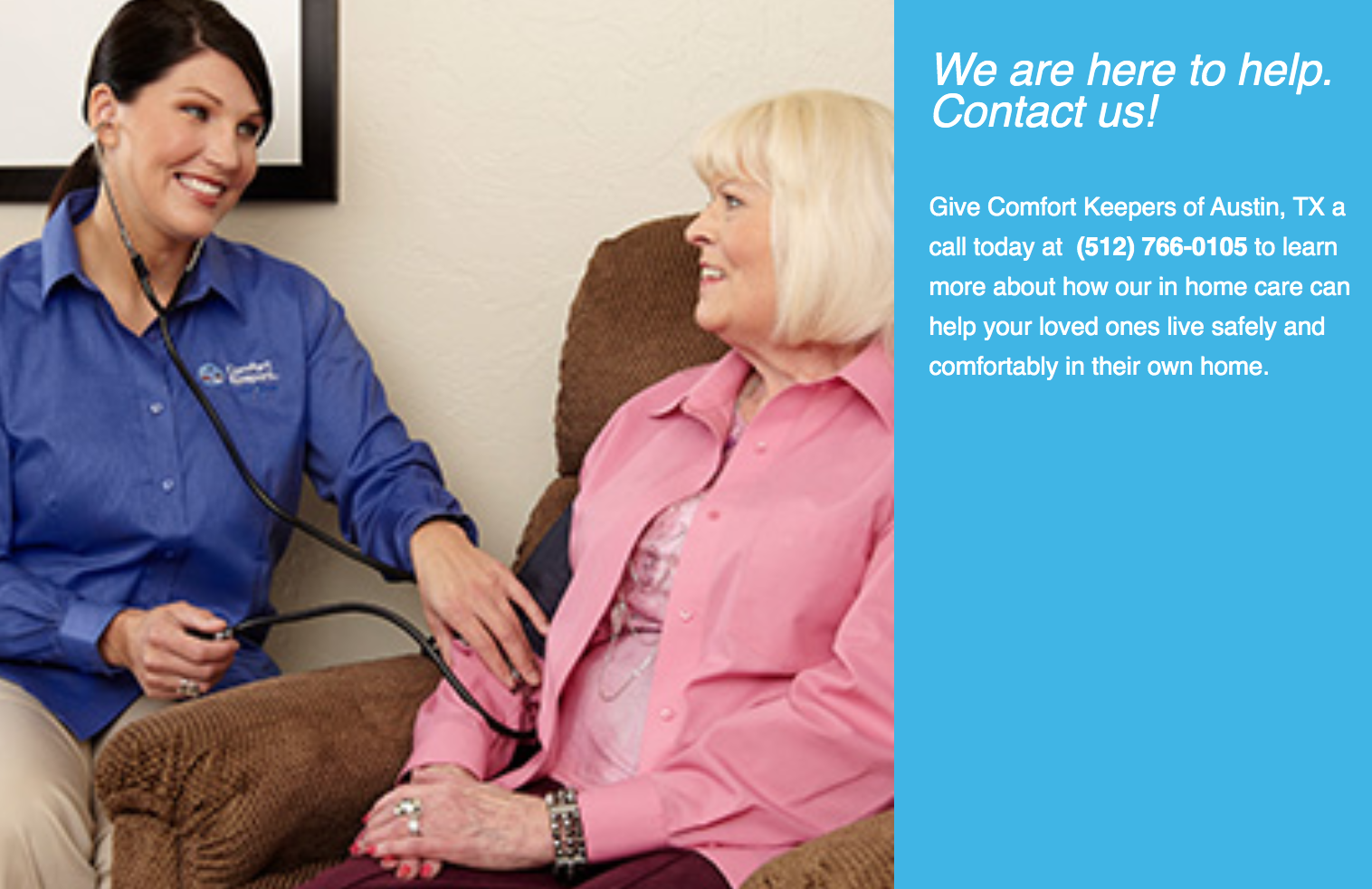 Comfort Keepers of Austin provides in home care and senior care services to the following areas in and around Austin, Texas
Austin, Barton Creek, Barton Hills, Bee Cave, Bouldin, Buda, Circle C, Oak Hill, Rollingwood, South Austin, South Congress, South Lamar, Southwest Austin, Sunset Valley, Travis Heights, West Lake Hills, Zilker, Austin, Barton Creek, Barton Hills, Bee Cave, Bouldin, Buda, Circle C, Oak Hill, Rollingwood, South Austin, South Congress, South Lamar, Southwest Austin, Sunset Valley, Travis Heights, West Lake Hills, Zilker, Downtown Austin, Clarksville, Old West Austin, Tarrytown, Hyde Park / UT, Rosedale, Allandale, Brentwood, North Loop, Mueller, Windsor Park, University Hills, East Austin, Wells Branch, McNeil, Mesa Park, Walnut Creek, Gracy Woods, Quail Creek, Milwood, Pflugerville, Windermere, Dessau, Pioneer Crossing, Jordan Crossing, Windsor Hills, Heritage Hills, Harris Branch, Manor, Bastrop