Medical Monitoring, Alert, and Medication Management In Home Care Service Systems
SafetyChoice® in home care service offers reliable security and safety for seniors in Brentwood, TN and surrounding areas
Comfort Keepers understands how difficult it can be to leave a loved one at home alone and unattended when he or she has health problems or difficulty with mobility. With these concerns in mind, our care experts have developed a variety of products and services to help meet your loved one's monitoring and in home care service needs while still providing them privacy and independence in the comfort of their own homes.
Our in home care service providers offer numerous monitoring and medical alert options that can work to improve your loved one's safety at home, including a variety of different monitoring devices that can not only detect a problem before it's too late, but are virtually tamper-proof. Our monitoring and alert systems provide peace of mind for family and friends of seniors living at home alone while still allowing for independence and privacy on the part of our senior clients.
Each product we offer is designed to improve the safety and independence of seniors living in their own home. In many circumstances our SafetyFirst products can seriously reduce and even eliminate the need for senior care service on a daily or 24-hour basis, adding a cost saving element to our already valuable service.
To find out more about our SafetyChoice products and how they can help your senior loved one save on in home care service, contact our office serving Brentwood, TN and the surrounding area today by calling (615) 942-0111.
Seniors living at home alone can face risks.
For instance, the risk of falling can be a threat to a senior's health and quality of life. But no less critical, a dose of medication could be missed, or overdosed. Additionally, for those with dementia, wandering off or engaging in a dangerous activity can put them in harm's way. 
Consequently, many families face this dilemma: balancing respect for a loved one's independence with a desire to provide them with home care. No one wants to be overbearing, but all families worry about the time between visits when their loved one is alone. 
Comfort Keepers offers more than in-home care, we also help seniors and their families overcome these challenges with our full line of in-home safety devices.
Contact Us
Medical Monitoring Systems
Disclaimer: Products may vary by location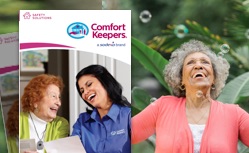 Care Products Brochures
Download a brochure to learn more about how our medical alert systems can help seniors live safely and independently at home.
Schedule a Free In-Home Consultation
A Comfort Keepers home visit will help determine the specific needs and demonstrate how these care products can help your senior stay safe while maintaining independence in the home.
Schedule a Free In-Home Consultation