Comfort Keepers In Home Senior Care Services in Hot Springs, SD
Discover the difference our in home senior care services can make in your loved one's life in Hot Springs, SD
---
Senior Care Services From Comfort Keepers
Our Comfort Keepers® are carefully selected and trained to become the experienced and skilled caregivers that provide professional in home care services for our clients. We take pride in the compassion that our team at Comfort Keepers Rapid City, SD demonstrates in their work providing in home senior care. Our caregiver team provides a wide range of care services that fit the unique needs of each senior. They receive a continued education to ensure that they can provide you with the most up-to-date senior care services. Comfort Keepers Rapid City, SD is proud to serve the Hot Springs community, which is the location to the state's veterans' home.
Companion Care: Elderly people can benefit from companion care, which includes providing companionship, as well as transportation, grocery and housewares shopping, meal preparation, and other services.
Personal Care: We provide assistance with everything from getting ready for the day to managing incontinence and toileting. We can also help with feeding and dietary needs.
Safety Care: When you're not able to be present to ensure the health and safety of a loved one, our Safety Choice products can provide you a sense of security.
Senior Transportation: Our caregivers are able to provide rides and transportation for the elderly, allowing them to maintain their independence and freedom of movement.
Interactive Caregiving: Seniors can age comfortably and independently at home with the help of our specialist home care services from Interactive Caregiving, a leader in the field.
24-Hour Care: There will always be someone accessible to assist you with any needs you may have, because our caregivers work in shifts around the clock.
Alzheimer's and Dementia Care: Assisting loved ones with memory loss or Alzheimer's disease can be difficult, but Comfort Keepers can help, no matter how far along your loved one's condition has progressed.
In-Facility Care: Our well-trained caregivers can provide uplifting care to residents in retirement communities, independent living facilities, and assisted living facilities.
Post-Hospital Care: Whether your loved one has just been released from the hospital or has spent time in a rehabilitation facility, we can help them adjust to life at home by giving support while they rehabilitate.
---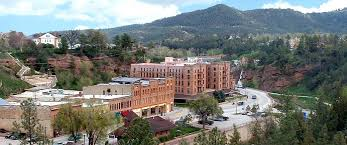 Hot Springs is the gateway to the Black Hills of South Dakota. The city was named after the steaming water that flows through the town. Hot Springs is home to one of the nation's oldest VA hospitals and Paleontological Mammoth sites. With all of the Veteran's in Hot Springs, Comfort Keepers Rapid City, SD is proud to be able to serve them with the in home senior care services that they need to remain in the comfort of their home for as long as possible.
---
Contact Us Now To Schedule A Free Consultation!
We proudly provide senior care to those in the Hot Springs area. Click a button below to learn more about our wide array of services.
Schedule a Virtual Consultation