Home Care Aide in Lugoff, SC
For those in need of an experienced and professional home care aide in Lugoff, SC, Comfort Keepers is the solution
Lugoff, SC, may not be a growing metropolitan city, but those living here often have the same needs. Located in the heart of Kershaw County, Lugoff is comprised of several generations of families who often kick off the holiday season by attending the Lights of Lugoff Christmas parade or enjoy spending time near the Wateree River. As we age however, the process of running errands, taking care of daily chores or attending to our own physical restrictions can become difficult. Retaining the services of a professional home care aide in Lugoff, SC, can significantly improve the quality of life for seniors and provide peace of mind to family members looking for the best senior care for their loved ones.
Comfort Keepers has been a dependable provider of quality care services in South Carolina and throughout the United States for years. Our dedication to enhancing the quality of life for all our senior clients permits them to maintain their independent lifestyle while remaining safe in the privacy of their own homes. Our experienced senior caregiver specialists customize services to meet the evolving needs of each client we serve. We offer diversity in our care services ranging from a few hours per week all the way up to full-time shifts, 24 hours per day, 7 days per week. Every home care aide is screened, certified, licensed, insured and bonded and is dedicated to the ethical and professional treatment of all.

Home Care Aide Services Offered in Lugoff, SC
The complete comfort of our senior clients is the primary objective of our home care services in Lugoff, SC. Comfort Keepers strives to customize our services to ensure each client is cared for without compromising their sense of independence or privacy. In fact, our home care specialists are highly trained to enhance our client's dignity in a friendly and respectful manner. Some of the home care aide services we offer in Lugoff, SC, are:
Mobility Assistance - If our senior clients require transportation for errands or medical appointments we can help.
In-Home Care - Our Comfort Keepers can provide a range of care, from in-home companionship care to personal care services.
Light Housekeeping - Our professional team can assist with cleaning bathrooms, dusting, mopping, sweeping and vacuuming.
Assisting with Medical Reminders - While our caregivers can't administer medication, we can remind your loved one when it's time to take it.
Respite Care - Comfort Keepers offers family care providers time to leave the home occasionally without worrying about the condition of your loved one.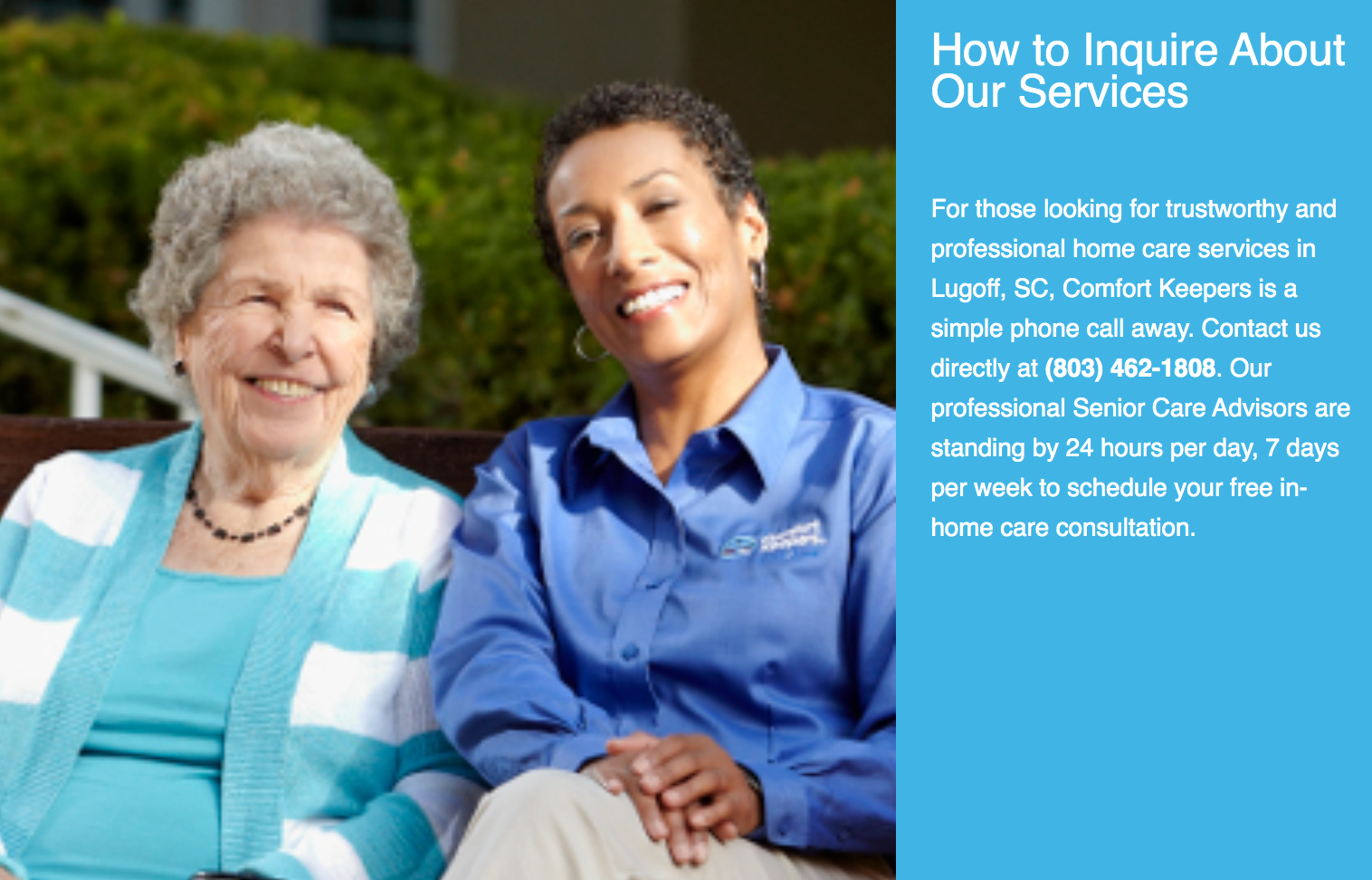 Comfort Keepers In Home Care proudly provides senior care services in the following communities of South Carolina:
Blythewood, Cades, Cassatt, Cayce, Columbia, Coward, Dalzell, Darlington, Dentsville, Eastover, Effingham, Elgin, Elliott, Florence, Hartsville, Horatio, Lake City, Lamar, Lexington, Lugoff, Lydia, Lynchburg, Mayesville, Olanta, Pinewood, Rembert, Shaw Air Force Base, Sumter, Timmonsville, Turbeville, Washington, and Wedgefield