Join Our Top-Rated In Home Caregiver Team at Comfort Keepers of Lincoln, RI
Comfort Keepers Home Care in Lincoln. RI offers a wide selection of rewarding in home caregiver career opportunities – part-time and full time – for people who have a heartfelt desire to help seniors and other adults live safely, independently, and happily at home in Rhode Island.
As an in home caregiver, you will be making a difference in the daily lives of local senior citizens. Whether it's assisting them with dressing, preparing meals or helping them with mobility, our clients look to you with appreciation and gratitude as you help improve their comfort levels and overall quality of life.
At the very heart of each Comfort Keepers home care agency is the Comfort Keeper home health aides, the people who bring our unique brand of caregiving to clients. There are also opportunities for people to work in and manage offices, coordinate client care, and market Comfort Keeper Services.
Each applicant is put through a rigorous screening process that includes criminal records/driving records check, random alcohol/drug tests, and credible reference checks. Moving forward from this process, they are hired to become an in home caregiver, receiving professional training and continuing education, as well as compensation for travel. Caregivers are also bonded, insured, and covered by workers' compensation insurance to protect our clients and their families.
Becoming a caregiver at Comfort Keepers of Lincoln, RI is the start of a rewarding lifestyle that allows you to provide compassionate services to seniors in your area. You will do more than just simple home care duties. Many of our senior clients look to you for meaningful conversion, accompany them around the community and stay involved.
We're always seeking responsible and reliable Certified Nursing Assistants (CNA), home health aides and homemakers throughout Rhode Island. To join our team in Lincoln, RI view our job openings and apply today!
At Comfort Keepers®, we help seniors get the most out of their retirement years with in-home care that allows them to live safely and independently.
Whether you're looking for a part-time job, or the start of a lifelong career, we have something for you. We're looking for compassionate men and women who want to help us help others.
Are You a Comfort Keeper®?
Along with our competitive pay, we also offer comprehensive benefits*, such as:
Flexible Scheduling to Work When You Want
We offer client care 24 hours a day, seven days a week. This allows us to have shift availability based on your needs. We understand that you are very busy and have your own responsibilities, such as taking care of family and your home. We want to make scheduling for you as easy as possible.
At Comfort Keepers, we'll match you with clients that need support at times when you're available. Your supervisor will work with you to find coverage if you need time off to take care of yourself or your family's needs.
---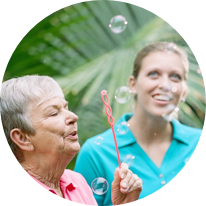 Health Education and Care Training
We want you to be the best caregiver you can be, which is why we provide courses for you to continue your education. Our online program lets you learn at your own pace, and discover what is interesting to you.
Choose from more than 2,000 online courses, in several health-related fields. Our continuing education program lets you earn more than 70 professional certifications. As you develop your knowledge and skills, our company offers opportunity for advancement. We want you to grow, not only to better serve our clients, but also so you can gain new career opportunities with us.
---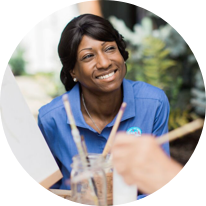 Have a Career Helping Others
What our caregivers love the most about their job is the happiness they get from helping others. This can be a powerful and rewarding experience. Comfort Keepers helps seniors so they can continue to be a part of the community and live independently for much longer.
With Comfort Keepers, you get paid to bring joy to others. You can't put a price tag on that.
---
Comfort Keepers Job Opportunities
At Comfort Keepers, our primary goal is not only the wellness of our clients but the happiness of our employees.
As a caregiver, you'll not only take care of daily living needs, but you will also build valuable relationships with your clients based around mutual respect, trust, and compassion. They rely on us for so much more than basic care services, which is why your role in helping them is so vital.
Our unique approach to in-home care makes us stand apart from the competition, thanks to our Interactive Caregiving™ approach. We get to know our clients on a personal level, allowing us to give the most customized care possible.
Almost all seniors have the same wish: to stay in their own homes as long as possible. With the invaluable care that Comfort Keepers provides, we make that goal an attainable reality. As a trained in-home caregiver, you will make a difference in someone else's life.
---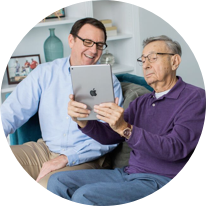 Kick-start Your Career in Homecare Today
Joining Comfort Keepers is also a great way to kick-start your career in the homecare field, whether you aspire to be a medical assistant, nurse, or other related professional. You'll gain hands-on experience that can take you closer to achieving your own professional dreams.
We also seek individuals who can help solve problems as a team, uphold procedures and protocols, and accept constructive criticism. In return, we offer competitive compensation, a highly flexible work schedule, and opportunities to impact someone's life in a meaningful and fulfilling way.
Comfort Keepers offers rich, rewarding jobs, and career paths for people at any stage in life, whether you are just joining the workforce, ready to jump back in after time off to raise a family, or looking to stay active in retirement. If you're ready for a job that can transform lives through compassionate, professional, in-home care, contact us today! We'd love to hear from you.