In Home Senior Care That Encourages A Healthy Diet in Oreland, PA
Comfort Keepers of Oreland, PA is proud to offer in home senior care that includes caregivers trained in senior nutrition
If there is one thing most seniors wish they didn't have to deal with as part of growing older, it would have to be losing the ability to do many of the things they have been doing all their adult lives.
Yet despite this, there is no reason why your loved one should have to suffer from poor senior nutrition!
Part of growing older often includes no longer being able to cook and prepare nutritious meals. When this happens, many turn to microwaveable foods, processed foods, and in some cases not eating enough to try and stretch their already tight budgets.
Here at Comfort Keepers of Oreland, PA, our in home senior care program is designed to provide your loved one with a caregiver trained in senior nutrition.
Give us a call at (267) 293-7434 to learn more!
Why Is Good Senior Nutrition So Important?
Part of aging includes changes to your loved one's body and mind such as loss of sensitivity and an overall slowdown in thought processes and physical activities. Then when you add in the numerous medications many seniors take, your loved one might:
Start to see a decrease in appetite 
Notice changes in their sense of taste
Might find their body becomes slower at producing natural nutrients 
Might find their body becomes slower at absorbing outside nutrients 
When a senior is forced to live on a poor diet of unhealthy foods, their body is not getting the nutrition it needs to function properly. This leaves them more susceptible to a range of illness, diseases, and injuries such as broken bones, it also means any illnesses or injuries will take longer to recover.
The best way to keep your loved one healthy is to ensure they continue to eat a healthy diet full of nutritious foods.
How Can We Help?
At Comfort Keepers, we think of our amazing caregivers as senior nutrition superheroes. When your loved receives our in home senior care, their caregiver can provide them with as little or as much help as they need to thrive especially in the area of meal preparation and nutrition.
Our caregivers can assist with:
Meal planning – our caregivers make putting together a meal plan and shopping list fun! They can share recipes with your loved one and help them with eating healthy, nutritious meals including those prescribed by their doctor or that meet their personal or religious needs.
Grocery shopping – For many seniors driving and pushing a heavy shopping cart can prove to be too much for them to handle. Our caregivers are happy to offer your loved one with safe transportation to the grocery store, assist them with their shopping or simply take care of everything for them.
Meal preparation – many seniors feel they can no longer handle the chores that come with preparing healthy meals. While tasks such as peeling, chopping, cutting, the act of cooking itself can, in fact, be good for their hands and mind, our caregivers can step in and help or take over when necessary to ensure your loved eats nutritious meals. They can also take care of cleaning up after the meal by doing things like the dishes and putting away any leftovers.
Feeding – for many seniors, illness, injury, and disease has left them unable to feed themselves. As part of our in home senior care, our caregivers are trained to assist without embarrassing your loved one or making them feel as though they are losing their dignity and independence.
Working Within Your Loved One's Budget to Create Healthy Meals
One of the biggest reasons so many seniors go without eating nutritious meals is that they are living on a fixed income. Paying regular bills can be hard enough, but buying healthy foods is often out of reach for many seniors. To help with this, seniors end up eating processed foods, frozen dinners, and the like. A poor diet like this leads to the need for supplements, visits to the doctor, and medications, all of which can cost more than eating right.
When money is an issue, there are many different local, state, and federal agencies who can help with senior nutrition through a wide range of useful services. Some, like Meals on Wheels, offer hot meal delivery services and can leave ready to heat and eat meals that can be microwaved later.
Among these agencies are:
Find out what other benefits your senior qualifies for.
You can help your loved one save money by:
Keeping foods stored in the fridge or freezer to extend their lives
Watching for sales and coupons
Buying foods that are in season
Comparing food labels, just because an item costs more doesn't make it better!
Planting a garden of fruits and vegetables
Looking for deals at the supermarket and comparing them to those at the farmer's market
Make a shopping list and stick to it
Choosing fresh food options first
While seniors tend to need fewer calories in their daily diets, they can still suffer from malnutrition. It is critical that your loved one's diet includes foods that contribute to a well-balanced diet. These should include:
Protein/Fish
Fruit
Vegetables
Whole Grain
Low Fat Dairy
Your loved one's doctor can help with a range of dietary information. You can help by reading the labels when shopping for groceries. Just because the package claims the ingredients are 100% XYZ, organic, or a super fruit/vegetable doesn't mean these foods are as healthy as they claim.
Typical Nutrition Label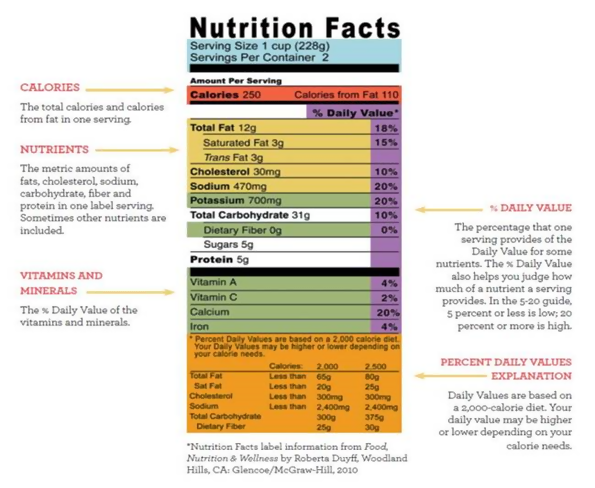 Image provided by the National Council On Aging
Don't Cut Your Loved One's Favorite Foods Out
While your loved one does need to eat healthy foods, there is no reason why they shouldn't be able to enjoy a few of their favorite treats and dishes. This can make switching over to a healthy diet easier. The trick is to make them by using less sugar/salt/fats and adding in healthier ingredients.
Contact Us
Managing senior nutrition can be challenging, but our in home senior care is planned around ensuring your loved one continues to eat well-balanced meals. For more information, contact Comfort Keepers of Oreland, PA at (267) 293-7434 and schedule your free consultation with one of our senior advisors today!