Comfort Keepers Youngstown, OH
805 Mahoning Ave
Youngstown, Ohio 44502
(330) 747-3541
SafetyChoice TabSafe Medication System
The perfect choice for complicated medication safety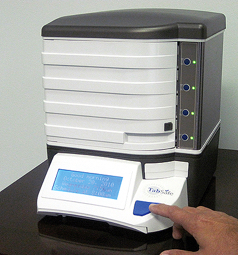 Maintaining complicated medication schedules is a critical part of elder care. Many seniors have to juggle multiple medications with a variety of dosing times, and others struggle with remembering to take their daily doses. A home care aide can help, but unless they are providing 24-hour home care, there will be gaps in caretaking. In either of these situations, the TabSafe medication system is an affordable and effective option for helping to eliminate mistakes.
If the client misses a dose, the TabSafe system makes an automated call to the client's contact list. If there's no response, an alert is sent to the SafetyChoice Centralized Monitoring Station, which makes a call to the user or caregiver.
The TabSafe medication system plugs into the existing phone line, with no need for special connectors. Additionally, it holds four cartridges, each available in interchangeable 16 or 32 dose sizes. The unit is capable of handling a variety of dispensing schedules and doses for each day of the week, with a dispensing button that's easy to see and feel.
Features:
The 24-hour battery backup system keeps the system functioning during a power failure. The system also includes an energy-saving mode.
In case of power loss, the system's memory maintains the prescription schedule.
In the event of a missed dose, the system calls up to three phone numbers with an alert.
As-needed medication (PRN) releases safely without risk of overdose.
Notifications are sent when medication levels are low.
Audio and visual medical alert notification.
Home Safety Assessment
Comfort Keepers can provide an in-home assessment to evaluate your safety needs and recommend the right medical alert products. Comfort Keepers will visit the home, work with the family to determine the specific needs, and demonstrate how these home medical alert devices can help seniors stay safe and independent at home.