In Home Senior Care Providers That Protect Your Loved One's Nutritional Health in Westerville, OH
At Comfort Keepers of Westerville, OH good senior nutrition is an important part of our in home senior care
There are many things seniors find they can no longer do as they grow older. One of these is the ability to prepare and cook nutritious meals.
Despite this, no senior should ever have to suffer from malnutrition!
Malnutrition in seniors can lead to many health issues such as being more prone to illness, disease, and injuries like broken bones. It can take them longer to recover from these conditions as well.
Part of our in home senior care at Comfort Keepers of Westerville, OH includes a caregiver with training in senior nutrition who can help make sure your loved one is eating a well-balanced diet.
Give us a call at (614) 699-6786 to learn more!
The Importance of Senior Nutrition
Part of growing older includes watching our bodies and minds go through a variety of changes. We start to suffer from poor memory, our senses start to diminish, and our ability to handle many simple tasks begins to fade away. When you add in prescription medications, your loved one might:
Notice changes in their sense of taste
Start to see a decrease in appetite
Find their body becomes slower at producing natural nutrients
Find their body becomes slower at absorbing outside nutrients
A lack of good senior nutrition can leave your loved one prone to many illnesses, diseases, injuries and have a harder time recovering.
Our Caregivers Are Here to Help
When it comes to in home senior care our caregivers are ready to help ensure your loved one gets the senior nutrition they need by:
Developing fun and tasty meal plans – our caregivers will sit down with your loved one and work with them to create fun, tasty meal plans that meet their nutritional needs. They can swap favorite recipes, find new ones to try, and much more.
About the grocery shopping – our caregivers offer a range of shopping services including providing transportation and assistance in the store or doing the shopping for your loved one using their coupons to save money.
Doing the cooking – if your loved one is having trouble with things like cutting, peeling, chopping, and handling heavy pans, our caregivers can help. Keep in mind these activities are good for their hands and mind. If your loved one can't help, their caregiver can prepare a cornucopia of tasty, nutritious meals for them.
Helping with eating – there are several injuries, diseases, and illnesses that can leave your loved one struggling to feed themselves. Our caregivers can assist them by preparing foods that are easier to eat and when necessary, assist them with eating in a dignified manner.
We Work with Your Loved One 
Many seniors find themselves struggling to survive on a fixed income let alone buy healthy nutritious foods. Because of this, they end up buying cheap foods that are devoid of the nutrients they need.
Our in home senior care program is designed to work with a variety of local, federal, and state agencies that provide senior nutrition services. These include agencies like Meals on Wheels that deliver hot meals during the week and can leave ready to heat and eat for the weekend.
A selection of agencies for you:
Find out what other benefits your senior qualifies for
You can also help your loved one save money and eat better by:
Keeping foods stored in the fridge or freezer to extend their lives
Planting a garden of fruits and vegetables
Watching for sales and coupons
Looking for deals at the supermarket and comparing them to those at the farmer's market
Comparing food labels, just because an item costs more doesn't make it better!
Choosing fresh food options first
Make a shopping list and stick to it
Buying foods that are in season
It isn't hard to make sure your loved one is eating a well-balanced diet filled with nutritious food. Just make sure they eat plenty of:
Whole Grains
Protein/Fish
Vegetables
Fruit
Low Fat Dairy
If you need more information on senior nutrition, be sure you contact your loved one's doctor. You can also count on the caregiver who comes as part of their in home senior care plan. They have undergone significant training in nutrition and are always willing to share their knowledge.
Another way you can help is to keep a close eye on the foods you buy. While the packaging may claim the food inside is organic, 100% XYZ, or includes certain super veggies or fruits, it may not be as healthy as they would have you believe. The best way to find out if a food is healthy is to read the nutrition facts label.
Typical nutrition facts label: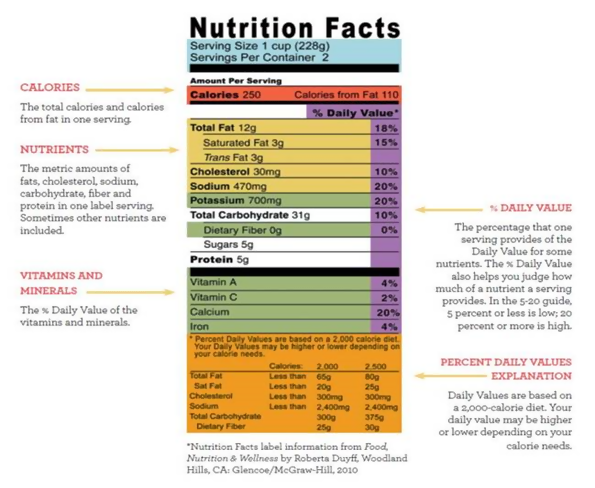 Image provided by the National Council On Aging
Your Loved One Can Still Have Their Favorite Dishes
Just because your loved one needs to be eating a healthy diet filled with nutrient-dense foods doesn't mean they can't still have their favorite meals. The only difference is that you need to learn how to make them using less sugar, salt, and fats.
Contact Us
If your loved one is not getting the nutrition they need, our in home senior care can help. Our caregivers are fully trained in senior nutrition and are ready to offer a wide selection of services to help them continue aging in place. For more information, contact Comfort Keepers of Westerville, OH at (614) 699-6786 and let our agents schedule a free in-home consultation today!