Welcome to Comfort Keepers of Fargo, ND
Providing in-home senior care services in Fargo and the surrounding areas


We sympathize with seniors' desire to maintain their independence and live in their home's safety, privacy, and comfort. Our caregivers offer a variety of in-home care services that are customized for each individual. Whether you need a caregiver part-time, full-time, or around the clock, our caregivers can accommodate you.
Specialized Care
In-home care should be your first choice when considering options for your loved ones with memory issues. Our caregivers are specially trained to support seniors with specific needs. If you or a loved one has a chronic condition or dementia, you will likely need an in-home caregiver at some point. Our customized care plans can change and adapt to seniors' needs as they age. We offer several specialized care services, including:
Post-Hospital Care: Comfort Keepers can help your loved one settle back into their routines at home after a hospital stay. Often, family caregivers are unprepared to care for their loved one who has recently undergone surgery or been hospitalized. Unfortunately, this can lead to a longer recovery time or even rehospitalization.

Alzheimer's and Dementia Care: We have specially trained caregivers who understand the needs of someone with Alzheimer's or other types of dementia. Our caregivers can offer support whether they are in the early or advanced stages.

End-of-Life Care: Our caregivers can offer empathetic support if your loved one has been diagnosed with a terminal illness. We can help seniors with personal care needs, companionship, and anything else they may need while aging at home.

Respite Care: Family caregivers need to take a break when they can. Our caregivers can step in while you care for your needs or go on a vacation.

Private Duty Nursing: For seniors who have medical needs, our home nurses can offer support for however long they need it. They can help set up medical equipment, administer medication, and remind seniors to take it on time.

Veterans Care: We offer in-home care and respite care for their spouses or family caregivers. We can help prepare meals, bathing, light housekeeping, and more.
In-Home Care
Studies show that most seniors prefer to live in their own homes, even if they need help with daily activities. Living at home can help improve a senior's mental health and well-being because they can keep their independence and privacy. Our in-home caregivers are trained to let seniors do what they can and help them with things they need support with. In-home care benefits seniors and their loved ones, bringing them peace of mind and knowing they are always safe and well cared for. Our in-home care services can be combined with any other of our services and include:
Personal Care: Our personal care service includes help with bathing, grooming, toileting, transferring, and feeling. While personal care can be a delicate topic for many seniors, it's essential to maintain good hygiene to avoid diseases or safety hazards.

Companion Care: Companionship can make a big difference in the lives of seniors, as it's common for them to feel lonely and isolated when they live alone. Our caregivers can help seniors with their daily tasks and give them company when needed.
Do You Need In-Home Care?
Deciding whether you or a loved one needs an in-home caregiver can be challenging. We offer a complimentary in-home care assessment where one of our care coordinators will evaluate the client's home and overall health. Every senior is different, but if you or a loved one has trouble with the following tasks, it might be a good idea to look into our in-home care services:
Lack of personal hygiene: A caregiver can ensure that a senior is bathing regularly, brushing their teeth, and caring for their hair.

Spoiled food in the kitchen: Rotten food can indicate that your loved one cannot go to the grocery store regularly. Our caregivers can help prepare meals and go grocery shopping.

Loneliness or signs of depression: A loss of interest in hobbies, sudden weight changes, or disconnecting from family or friends can indicate that a senior is going through depression or loneliness. In this case, they would benefit from companionship.

Inability to do tasks independently: If your loved one has trouble with grooming, household maintenance, or running errands, it might be time for an in-home caregiver.

Fall hazards in the home: If your loved one's home is unsafe, we can suggest how to prevent falls or accidents. Stairs, step-in bathtubs, uneven flooring, and clutter can harm a senior's health.
Interactive Caregiving
At Comfort Keepers, our caregivers use an interactive approach when caring for seniors. This means that we focus on not only the physical needs of our clients but also their emotional needs. This approach to caregiving encourages seniors to be an active part of their care plans, fostering independence and purpose. Interactive caregiving guarantees that your loved one is always involved in their care, stimulating their mind throughout the day. Our customized care plans include activities that your loved one enjoys, such as listening to music, walking, or lunch.
How Can Comfort Keepers Help You?
Our in-home care services in Fargo allow seniors to improve their lives. Caregiving also alleviates stress for family caregivers, promotes safety, and preserves dignity and independence.
Schedule a free in-home care assessment with us at (701) 237-0004 to learn how we can help you or your loved one.
Are You Interested in Becoming a Comfort Keepers Caregiver?
Being an in-home caregiver for Comfort Keepers® is a wonderful way to make a difference in the lives of seniors and their loved ones while positively impacting your own life. Whether you're searching for a part-time job or a lifelong profession, we have an array of opportunities tailored just for you. We're seeking empathetic individuals who strongly desire to join us in our mission of helping others. To show our appreciation for our dedicated caregivers, we offer the following benefits:
Flexible hours

Competitive salary

A rewarding career opportunity

The ability to grow in the healthcare industry

Specialized education and training
Comfort Keepers can help you launch a meaningful career helping others as a caregiver in Fargo. To learn more about our senior caregiver opportunities, visit our jobs website.
---
A History of Helping Seniors Thrive

Proudly serving the Fargo/Moorhead and Grand Forks areas for the past 15 years, Comfort Keepers of Fargo, ND provides a variety of in-home care services including daily activities that keep seniors active and healthy. We focus on matching the right caregiver to fit your loved one's personality and interests. Our goal is keeping our clients engaged and treating them like our own family with our personalized care.
NOT SURE WHAT CARE YOU MAY NEED?
If you find yourself wondering if your loved one may need some support to remain independent, or what home care services would be ideal for their care plan, complete our survey. We can help you take the first steps- from starting the conversation, to how to prepare for your first visit, and more.

Take a peek at what we have to offer to seniors by seeing how Jackie and Don plan their visits together! Elevating the human spirit involves interweaving love and joy into every moment.
Private Duty Certified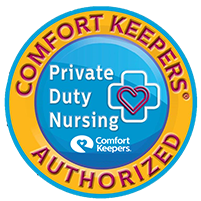 Often times seniors may need an extra set of hands around their home due to a medical condition. This condition is normally chronic and affects their ability to continue doing daily living tasks. While a caregiver can ensure their personal needs are met, it takes a certified LPN or RN to be able to assist them medically. We are proud to be a certified provider of private duty nursing services for seniors to support them with their medical equipment, therapies, medications, and more.
Find out more about how our team can assist you or your loved ones through quality home care, call Sue and Joel Peterson (701) 237-0004 to schedule a free care consultation.