Do you qualify? Find out.
---
Join Comfort Keepers Home Senior Care Services in Salisbury, NC
Start a rewarding career in home senior care services as a professional in-home care worker in Salisbury and the surrounding areas of the Piedmont region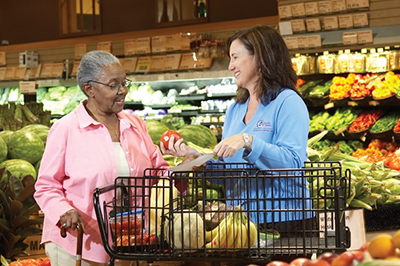 Considering a career in home senior care services? Applying for a position at Comfort Keepers Salisbury may just be the best way to kick-start a rewarding career path as a trusted care professional in our nation's most renowned non-medical care agency. As our fully employed, bonded, and insured Comfort Keeper, you can do much more than helping clients with numerous day-to-day tasks – you will have the opportunity to restore hope and elevate the quality of life of those you care for through compassionate, customized care designed to keep seniors engaged and active in their golden years. To learn more, call us in Salisbury, NC at (704) 322-3240.
Earn a Great Living in Salisbury, NC
As a care professional beloved by elderly clients and their families alike, you will have the chance to make a real, tangible difference in the lives of those who need our help the most. To achieve this, you will be implementing our special approach to home senior care services known as Interactive Caregiving during every care visit you provide. This industry-leading method is all about promoting overall wellness by keeping seniors engaged in their favorite activities. For instance, you can prepare meals with your clients, go for walks together, play games or listen to music, attend celebrations and community events, and so much more.
At Comfort Keepers Salisbury, team members providing our home senior care services are expected to be:
Adept communicators
Creative
Resourceful
Confident
Highly professional
Flexible
Self-motivated
Patient
Punctual
Discrete
Respectful
Trustworthy
Proactive
Organized
In addition to this, we highly value candidates who are able to constructively accept criticism, follow procedures, and make efforts to solve problems in a team-oriented manner.
That being said, Comfort Keepers offers a range of benefits to all our Salisbury employees. Firstly, our paychecks are stimulating and competitive and there are plenty of ways to get bonuses. Secondly, we provide home senior care services around the clock, meaning you can easily arrange your shifts based on your own personal schedule and preferences.
Last but not least, through Comfort Keepers, you can constantly grow as a professional and as a person. When working for us, you will have access to 2,000+ education and training courses. Moreover, you can obtain more than 70 certifications in a wide spectrum of health and caregiving fields.
Apply to Become a Comfort Keeper Today
If our offer sounds appealing and you are interested in applying for a position with our locally owned and operated Salisbury agency, do not hesitate to call us today and schedule your initial interview. We look forward to working with you!