---
In-Home Senior Care in Raleigh, NC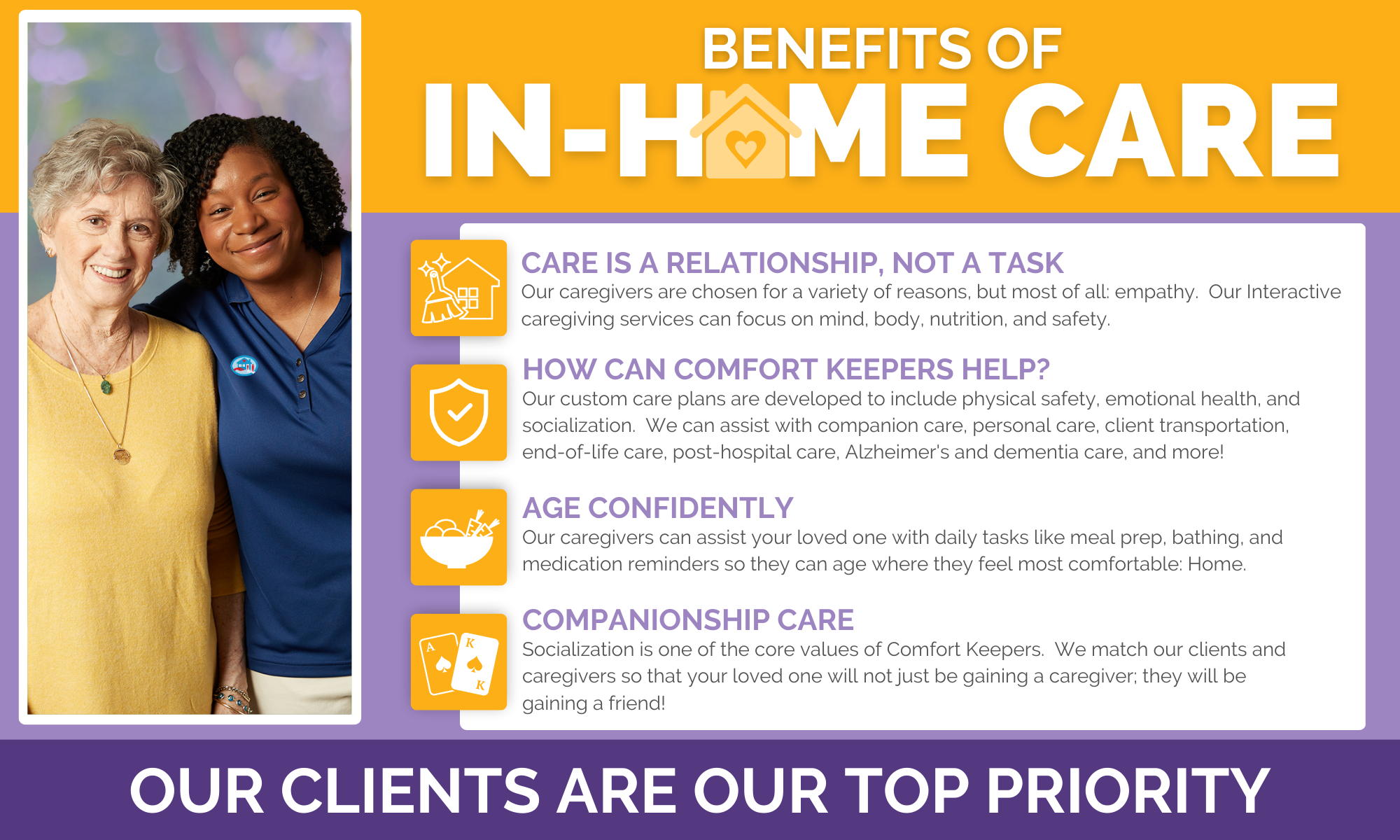 Call for a Virtual or In-Home Assessment
Do you know a senior living in Raleigh, NC, who needs extra care? If so, you should consider in-home care from Comfort Keepers of Raleigh. Comfort Keepers is an in-home senior care agency that provides a variety of services to ensure seniors in Raleigh, NC, are safe, secure, and receive personalized care.
Comfort Keepers In-Home Senior Care
Comfort Keepers of Raleigh, NC, is an in-home care agency that provides a unique approach to senior care. Our goal is to help seniors stay in the comfort of their own homes while providing the best quality of care and support.
Comfort Keepers works with seniors and their families to create individualized care plans that accommodate their unique needs. We also provide support and assistance with daily living activities such as meal preparation and medications. Our highly trained caregivers are compassionate and knowledgeable about the needs of seniors and take great pride in the responsibility of providing premium senior care.
Services Offered by Comfort Keepers of Raleigh
We customize our services based on the unique needs of every client. Here are a few of the services that we offer as part of our in-home senior care in Raleigh.
24-Hour Care
Comfort Keepers of Raleigh offers 24-hour care for seniors who require extra assistance due to physical or cognitive impairments. This type of care is designed to meet the needs of those with advanced medical conditions who require more than just a few hours of assistance daily. Some seniors who don't have special medical conditions might still prefer to have 24-hour care - and we can help with that as well.
Respite Care
Respite care is designed to provide temporary relief for family members and caregivers of seniors. This type of care allows family members and caregivers to take a break from their daily caregiving duties while knowing their loved one is in good, safe hands.
Personal Care
Comfort Keepers of Raleigh provides personal care, which includes assistance with activities of daily living such as bathing, grooming, and dressing. This type of care ensures that seniors receive the personal care they need while still maintaining their independence and dignity.
Alzheimer's and Dementia Care
We also provide specialized care for seniors who are living with Alzheimer's disease and other forms of dementia. Their caregivers are knowledgeable and experienced in providing the safe and compassionate care that seniors with dementia or Alzheimer's need.
Companion Care
Companion care is designed to provide companionship and socialization for seniors. With this type of care, Comfort Keepers caregivers engage seniors in meaningful activities such as games, reading, music, art, and outings. This kind of quality time can make all the difference in the lives of senior adults. Our caregivers and their clients often form tight bonds that can last for years.
Post-Hospital Care (Non-Medical)
Comfort Keepers of Raleigh offers post-hospital care services, which include help with managing medical appointments and follow-up care, as well as assistance with activities of daily living. Many seniors struggle to integrate back into a regular routine following a hospital stay. Our caregivers will work one-on-one with you or your senior loved one in order to develop a schedule, all while allowing for plenty of rest and relaxation.
Medication Reminders
Comfort Keepers of Raleigh also offers medication reminders and prescription organization services for seniors as part of our in-home senior care. Our caregivers are trained to ensure that seniors take their medications as prescribed. Missing medications can cause health issues for many senior adults. With the caregivers from Comfort Keepers on hand, you never have to worry that your senior loved one is missing out on important medications.
End-of-life Care
Comfort Keepers of Raleigh provides compassionate end-of-life care for seniors who are facing the end of their lives. This type of care helps ensure that a senior's last days are peaceful and comfortable and that their loved ones are supported during this difficult time.
Seniors and Technology
Comfort Keepers of Raleigh also understands the importance of technology for seniors. We work with senior adults to help them understand and embrace technology so that they can stay closer to their family and friends. Technology also helps facilitate communication between seniors and their caregivers, as well as helps seniors keep track of their medication and health information.
Many seniors can feel overwhelmed by the pressures of modern technology and are resistant to using things like mobile devices and smartphones. Our caregivers are trained in not only the latest technology that is of use to seniors but also how to teach seniors to use it compassionately and with regard to safety online.
The Benefits of In-Home Senior Care in Raleigh
In-home senior care can provide numerous benefits to seniors. It can increase seniors' independence and provide them with the personalized care they need in a comfortable and familiar environment. In-home care can also help seniors stay connected to the community and maintain their relationships with family and friends. In-home care also provides family members and caregivers with more free time as well as peace of mind that their loved one is in good hands.
The Comfort Keepers Difference
Comfort Keepers of Raleigh stands apart from other in-home senior care agencies in the Raleigh area. Our caregivers are highly trained and experienced in providing quality, personalized care for seniors. We also offer a variety of services and carefully match each caregiver to the needs and personality of every senior to ensure compatibility.
Get Started With Comfort Keepers Today
If you are looking for the best, most dedicated in-home senior care in Raleigh, choose Comfort Keepers. Our expert, loving in-home care provides customized services that will help you or the senior adult in your life thrive, both mentally and physically. Contact us today through our website or by phone at (919) 650-2784 to learn more about how we can help you.