Welcome to Comfort Keepers Home Care in Mooresville, NC
Home is the Safest Place to Be In This Moment
Comfort Keepers is a North Carolina Department of Health Licensed Home Care Provider that is accepted by most long term care policies
We feel very fortunate to be able to continue providing home care services that will keep your senior loved one at home and limit their potential exposure to the novel Coronavirus. At Comfort Keepers of Mooresville, NC we are proud to be serving Davidson, Cleveland, Statesville, Newton, and surrounding areas while taking every precaution to keep our senior members and our caregivers safe. Our caregivers are given a list of daily screening questions from the North Carolina Department of Health that are designed to find any potential symptoms or if they have been in contact with someone who may have the virus. We also have enough supplies on hand to ensure that our caregivers can safely provide home care to their senior clients. 
Every one of our home care services are completely personalized based on the needs and wants of your senior loved one. Our care coordinators will ensure that they develop a personalized care plan that meets the traits, goals, and interests of your loved one and only includes care that they need. And, as their needs change, so can our care plans. We can also select the best caregiver based on the information we have found. We offer several forms of home care: Companion Care and Personal Care. Whether your loved one is just in need of someone to be there and provide loving companionship while they perform their daily activities throughout the week, or they need more hands-on care, our caregivers are there to help.
At Comfort Keepers, our caregivers and home health aides are dedicated to providing the one-on-one service that our senior clients need to continue living purposeful and fulfilling lives in the comfort of their own homes. They are specifically trained in the latest care techniques and methodology to help your senior loved one live a positive life and remain physically, mentally, emotionally, and socially active. Our goal is to connect with our senior clients and strive to improve the overall quality of their lives, without compromise for them.
To find out more about the services that we offer, and how we can make an impact on the life of your senior loved one, visit our Mooresville, NC office today at (704) 216-1152.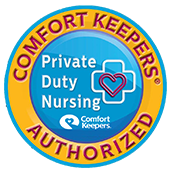 ---
NOT SURE WHAT CARE YOU MAY NEED?
If you have worried about your senior loved one living on their own, it might be time to consider in home care. Begin the process by taking a short survey to help you better understand when the time has come to pursue care options.
---
---