Comfort Keepers Secaucus, NJ
58 Harmon Cove Tower Suite 58
Secaucus, New Jersey 07094
(201) 771-1908
View Elderly Care Services Job Openings near Secaucus, NJ
If you have a caring spirit and would like to provide elderly care services to our clients, you possess two characteristics that are essential to being one of our Comfort Keepers
We offer a wide array of exciting careers for individuals interested in providing elderly care services for individuals in their homes. Whether you are looking for part-time, flexible scheduling or a full-time job, we have an eldercare position that is right for you. As a member of our team you will help provide services to our clients in their own homes so they can enjoy independent, safe, healthy lives without having to relocate to an assisted living facility. Senior caregivers do more than just day to day living tasks like washing clothing, assisting with mobility and providing meal preparation and feeding. They become companions, friends and even like family to the clients they serve. If you are interested in a rewarding career helping others, we want to meet you.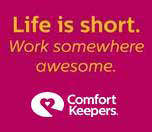 Opportunities in the elderly care services field include paid training, mileage reimbursement, paid holidays, direct deposit and much more. Applicants must be bondable, able to pass a random drug test, have their own transportation and proof of car insurance as well as excellent references.
If you are a kind, caring person and believe you would make an excellent elderly care services provider, please review our open positions today. We look forward to meeting you and finding out how you can become an asset to our team and clients.