Our 24 Hour Home Care Agency Provides Care in Bloomfield, NJ
Learn more about our expert 24 hour home care agency near you in Bloomfield and the surrounding area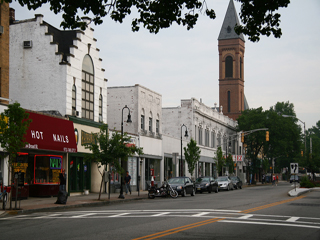 Comfort Keepers 24 Hour Home Care Agency has been serving families in Bloomfield, NJ and surrounding communities for many years. Our caregivers provide personal and companion services that help clients stay mobile and help them take care of daily tasks.  Performing in-home care duties like light housekeeping, laundry, meal preparation, medication reminders, or bathing and dressing, Comfort Keepers ensures that your loved ones are healthy and happy.
About Bloomfield
Bloomfield is a thriving town.  The new Barnes and Noble and new residential and retail complexes bring new energy to the town and help grow its economy. The annual August restaurant week draws immense crowds and marks a celebration of local culinary artists and the end of summer. Bloomfield's cultural heritage is on full display as one visits long-standing Italian bakeries and Pizzerias.  These town icons are owned and operated by the families that founded them more than one hundred years ago. Our 24 Hour Home Care Agency is proud to stand alongside this longstanding business community.
Community Involvement
Our 24 Hour Home Care Agency is engrained in the Bloomfield community. We are a member of The Suburban Essex Chamber of Commerce and Eydie Shapiro attends and hosts numerous events with the Chamber throughout the year, including a training seminar.
Our Services
Our care providers also ensure that clients stay mobile and social. Whether it's shopping at the Shop Rite on Broad Street, offering guidance through doctor's office visits, getting to physical therapy appointments on time, or having company at the Bloomfield Senior Center on Broad Street while participating in activities, we ensure that your loved ones stay active.
Our goal is to provide superior extended and short-term care services. These services include things as simple as giving a client a ride home from rehab or long term care like providing continued assistance contending with dementia or Alzheimer's. Regardless of the extent of care, our 24 Hour Home Care Agency provides assistance that suits your needs. Call Eydie or Trina at (201) 771-1908.