5 Reasons When You Need Respite Care
Respecting our elders is one thing that we have been taught since our childhood, and to obey that is our duty. As our loved ones grow-up, they require more attention towards their health and proper guidance and routine medication to look after, and also intake of healthy meals that include consumption of balanced diets, nutrients, proteins to maintain a healthy lifestyle. Well, who is held responsible for this? Their children, but let's be honest! Does it become hectic sometimes to look after our elderly needs and balancing our daily work routine? Yes, it might be. The solution to that is Respite care.
What are the respite care services?
Whenever comes the time that you or any of your family members are not present at your home to take care of elders and finding it difficult to allot the responsibility to someone, then there comes a caregiver to look after. They are professionally trained and skilled in taking care of elders and looking after their health needs and proving them the companionship as their dear ones.
There are certain situations in life where it becomes difficult to cope up with, in looking after the elderly. What are they ? Here we bring 5 reasons when you need respite care services.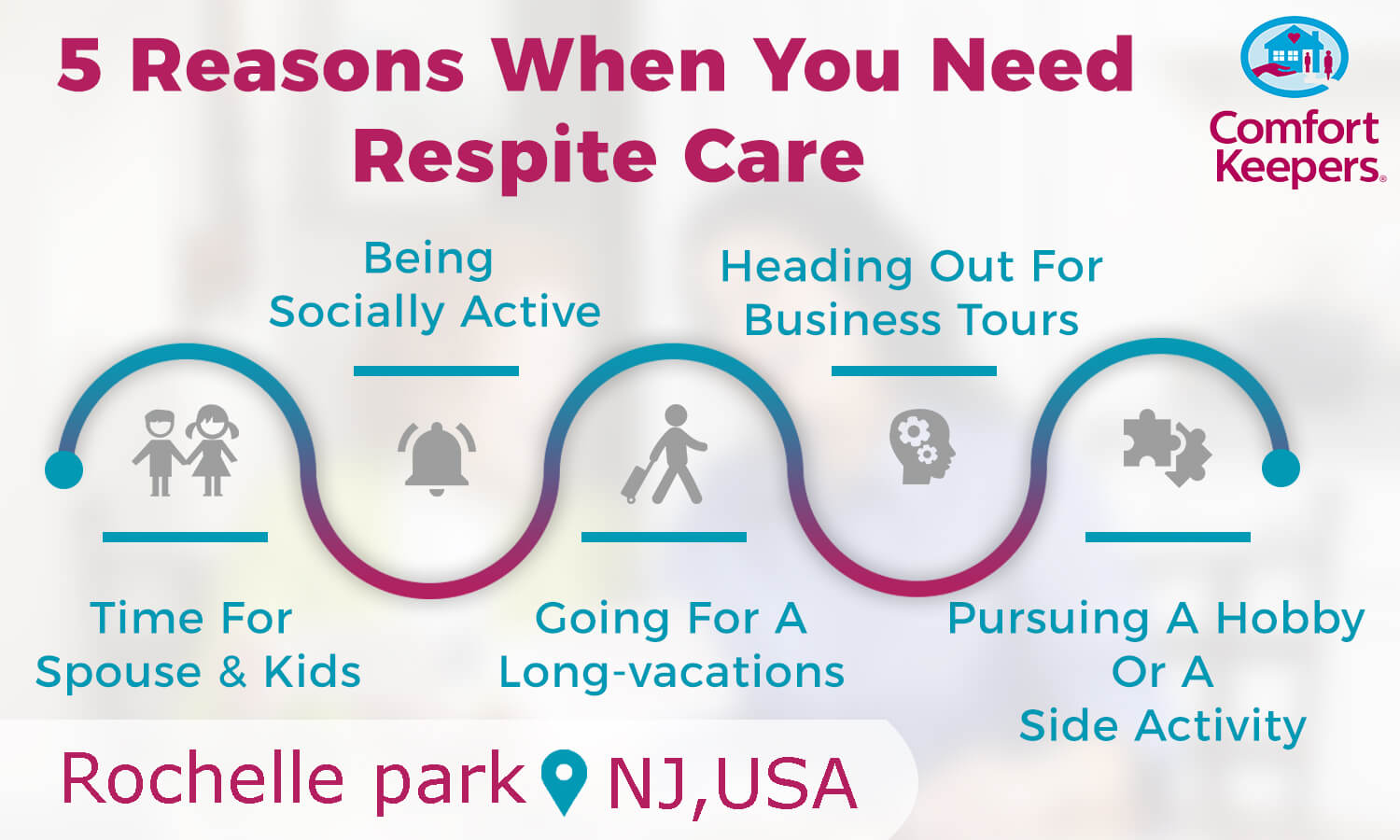 1) Time for Spouse & Kids
As our elders require attention regularly, it becomes difficult to promote time to spouse and kids like heading out for dinner, taking children to an amusement park or for a movie and make their weekend joyful and happy.
2) Being socially active.
By keeping a watch on your elders and their health needs. You have to subtract the possibilities of going to social gatherings, kitty parties or just hang around with some friends and have some pleasurable time.
3) Going for a long-vacations
Working without a break once in a while, becomes hectic and to get it cured, one needs to visit beautiful destinations with their family and kids and explore new places for some refreshing beauty and mental fitness, but your absence might impact the routine of your elders and it may cause them disturbance.
4) Heading out for business tours
As a working professional, you might have to occasionally visit different towns and cities to get your business deals fulfilled, but if having an elderly responsibility on your head, it also asks for a drop against it, and it may seem a huge loss to suffer lately if not visited.
5) Pursuing a hobby or a side activity
As a working person, the part-time you promote to your work and being enthusiastic about something creative pushes you to do that so, to keep you active throughout, but it becomes monotonous to balance all these things at a time, which lacks our ability in learning something we like and keeps it away from mastering the craft.
The Solution
Hire the best home care agency for a temporary period of time and inform them to take care of your elders by letting them know
Their daily routine,
What kind of medication they are running on,
What chores do they undertake timely,
Their meal timings and what all things keep them active.
Your loved ones won't be felt lonely, because they will get a friendly companion to talk and share about certain moments of their life, and if they feel something to be fixed, then also our caregiver will be there to help. This eliminates your worries to balance your own life accordingly. So, you may continue with your thought process of all the above things you wish to pursue, by handing over the responsibilities to the respite care provider.
Why Caregivers, Not any other family member You may ask?
As a family member, you might be aware of the running lifestyle of your elders present at home, but apart from routinely servings what else do they expect? The caregivers with equipped knowledge and experience make it a point that along with serving them regularly, they should also be offered those things that make them happy and cheerful.
These experienced caregivers serving the elders for longer might be aware of the taste and preferences, that what common things do all the people of this age group like. If you are a working person, the availability of you for your elders might be lacking, but as a loyal companion, the caregiver would stay with them all day, allow them to share some thoughts or small talks which they wish to do.
The caregivers offer a satisfying service that may keep you and your elders happy for a longer period of time. The quality of duty they promote to the elders define their passion and enthusiasm, and their purpose of significantly serving to someone senior to them, which may give a familiar vibe of attachment and concern. Thus, as a family member, you might be able to promote a better amount of love to your elders, but our caregivers won't lag behind and would make a point to make them feel affectionate staying with them temporarily.
Conclusion
The 'Respite care service' is an emotional concern towards the elders as well as the one looking after them. We The Comfort Keepers of Rochelle Park, NJ bring you the solution of maintaining a healthy and emotionally stable lifestyle, by providing friendly and cooperative caregivers to look after your elders. If you are looking for in-home care services or respite care services in Wayne NJ or in selected areas of NJ, we can help.
We give you access to allocate the responsibility of our elders on us and get yourself out of the world and collect the new experiences of life. After all, we believe in serving happiness and joy to all the ones who 'believe in living'.