In Home Senior Care That Supports Your Loved One's Nutritional Needs in Cumberland, MD
A major part of the in home senior care at Comfort Keepers of Cumberland, MD is providing proper senior nutrition
There are many things both good and bad that come with getting older. One of which is the inability to continue doing the things you once did with ease.
However, this doesn't mean seniors should ever go without tasty nutritious meals!
But when they can no longer cook, many end up eating an endless litany of frozen TV dinners and ready to go boxed meals devoid of senior nutrition.
Our in home senior care programs come with caregivers who know their way around the kitchen and can prepare tasty meals your loved one will thoroughly enjoy!
Give us a call at (240) 242-5966 to learn more!
Proper Senior Nutrition is Critical
The biggest problem with cutting back on nutritious foods is that it can lead to illness, disease, broken bones, mobility, and slower recovery. Many seniors:
 Start to see a decrease in appetite
Notice changes in their sense of taste
Might find their body becomes slower at producing natural nutrients
Might find their body becomes slower at absorbing outside nutrients
It's amazingly easy to reverse this situation, all it takes is for someone like a family caregiver or one of our in home senior care providers to make sure they eat well by providing foods with plenty of senior nutrition.
Our In Home Care Services Can Help!                   
The most important part of our nutritional program is the skilled caregiver that comes with it. They know all about senior nutrition and can help:
Plan Daily Meals – by working with your loved one to plan the week's meals and creating a shopping list. The list should include nutritious foods and foods that meet all dietary needs.
Doing the Weekly Shopping – When driving and doing the shopping gets to be too much, our caregivers can help with the shopping or take care of it completely. We also use their coupons to help save money.
Mealtimes – many seniors don't eat a well-balanced diet because they can't handle the tasks involved in making them. What they might not realize, is that jobs like cutting, chopping, and slicing can help with arthritis and many forms of dementia.
Helping Seniors to Eat – for many seniors, accidents, injuries, diseases, and illnesses have left them unable to feed themselves. Our caregivers are trained to provide assistance without making their clients feel as though they are giving up their independence.
We Can Help with Nutritious Meals
Living on a fixed income leaves many seniors struggling to pay their bills, let alone buy healthy foods that meet their nutritional requirements. They eat boxed meals and frozen dinners, all foods that have nothing in the way of senior nutrition. As part of our in home senior care services, our caregivers can prepare delicious nutritious meals.
Along with this, there are many different local, state, and federal assistance programs that can deliver hot meals every day as well as easy to reheat meals when they can't deliver.
Here is a list of services to check out:
See if you would like to learn more about the many benefits your loved one is eligible for.
There are many ways to help your loved one save, including:
Make a shopping list and stick to it
Choosing fresh food options first
Keeping foods stored in the fridge or freezer to extend their lives
Comparing food labels, just because an item costs more doesn't make it better!
Looking for deals at the supermarket and comparing them to those at the farmer's market
Planting a garden of fruits and vegetables
Buying foods that are in season
Watching for sales and coupons
Keep in mind that just because seniors don't require as many calories on a daily basis, a poor diet can lead to malnutrition. As part of our in home senior care, our caregivers can prepare nutritious meals.
If you are cooking for them, be sure to include:
Vegetables
Protein/Fish
Fruit
Low Fat Dairy
Whole Grain
Be sure you check with their doctor about any specific dietary needs your loved one might have. If you do the shopping, be careful what you buy, not everything is as advertised and often has little to no nutritional value.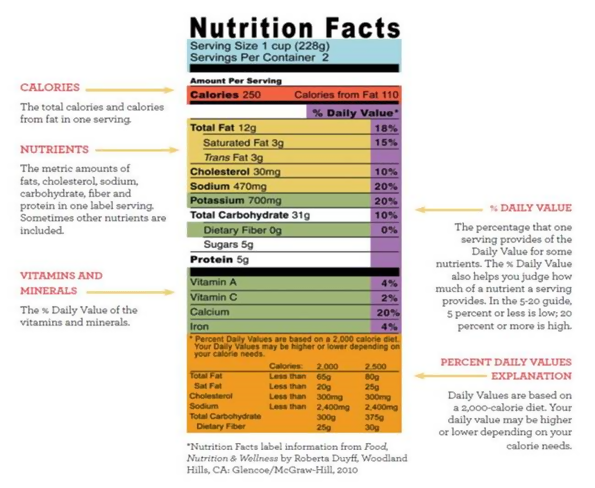 Image provided by the National Council On Aging
Be Sure You Let Them Eat Their Favorite Foods
While eating a well-balanced diet is important, so too is having a little fun. This means allowing your loved one to eat their favorite foods occasionally. Try using healthier ways of preparing them, such as limiting salt and fats.
Contact Us
Making sure your loved one gets the nutrition they need isn't always easy, but with a little help from our caregivers, who are well-trained in senior nutrition, it is possible. If you would like to learn more about our in home senior care programs, contact Cumberland, MD at (240) 242-5966 and let us schedule your free consultation with a senior care advisor.