Comfort Keepers Offers Customized Personal Home Care for Seniors in Annapolis, MD and the Surrounding Area
Seniors sometimes have a difficult time maintaining their personal needs because of health or mobility issues. If your loved one struggles with bathing, grooming, or other essential daily tasks, it may be time to consider arranging personal home care services from a professional agency.
What Is This Type of Care?
Personal home care refers to any type of assistance that caters to one's basic personal hygiene and other associated tasks such as toileting, dressing, grooming, beautification, and so on.
At Comfort Keepers, we can customize care in a way that will account for and address your loved one's every requirement. Depending on your loved one's age and acuity, we can either provide stand-by assistance if they are vital enough or deliver more hands-on care if they struggle with mobility or physical limitations.
For your peace of mind, all our caregivers are extensively trained to provide compassionate, dignified assistance and have tactful ways in alleviating any discomfort and embarrassment that may be associated with receiving this type of care.
How Comfort Keepers Assist with Personal Needs
It may seem like the only purpose of this type of care is to make sure your loved one is clean and comfortable every day, but the truth is it is much more than that – it is about elevating quality of life and promoting physical and emotional wellness by enabling your parent to look and feel their best. Our trained, loving caregivers will be there to help with:
Bathing and hygiene
Dressing in the morning
Undressing and preparing for bed
Teeth brushing and denture care
Styling hair
Makeup and nail polish application
Shaving
Additional Benefits
Another important benefit of care is that your loved one can boost their overall health by simply being able to bathe regularly. Maintaining good hygiene prevents odors, rashes, infections, and other complications that can easily arise in seniors. This type of care can also include additional services such as transferring and positioning, mobility assistance, supporting physician-prescribed diets and regimens, and more.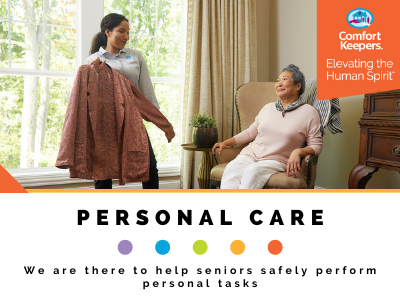 ---
Reach Out to Comfort Keepers
If you or an aging loved one needs assistance with personal tasks like bathing, dressing, or grooming, contact Comfort Keepers today. Our staff can go over any questions you may have about our personal home care services and schedule a free, no-obligation assessment with one of our care coordinators. To get in contact with a staff member, please click one of the buttons below.