Knox
Dementia Care in Monticello, IN
Senior Care in Rochester, IN
Caregivers in Monticello, IN
Respite Care in Wabash, IN
Senior Care in Warsaw, IN
Delphi
Respite Care in Rochester, IN
Camden
Rochester
North Manchester
Caregivers in Warsaw, IN
Monticello
Senior Care in Monticello, IN
Elder Care in Rochester, IN
Dementia Care in Warsaw, IN
Respite Care in Monticello, IN
Respite Care in Warsaw, IN
Logansport
Wabash
Alzheimer's Care in Monticello, IN
Rensselaer
Warsaw
Culver
Dementia Care in Monticello, IN
Comfort Keepers provides loving and engaging dementia care in Monticello, IN. Call (574) 626-4336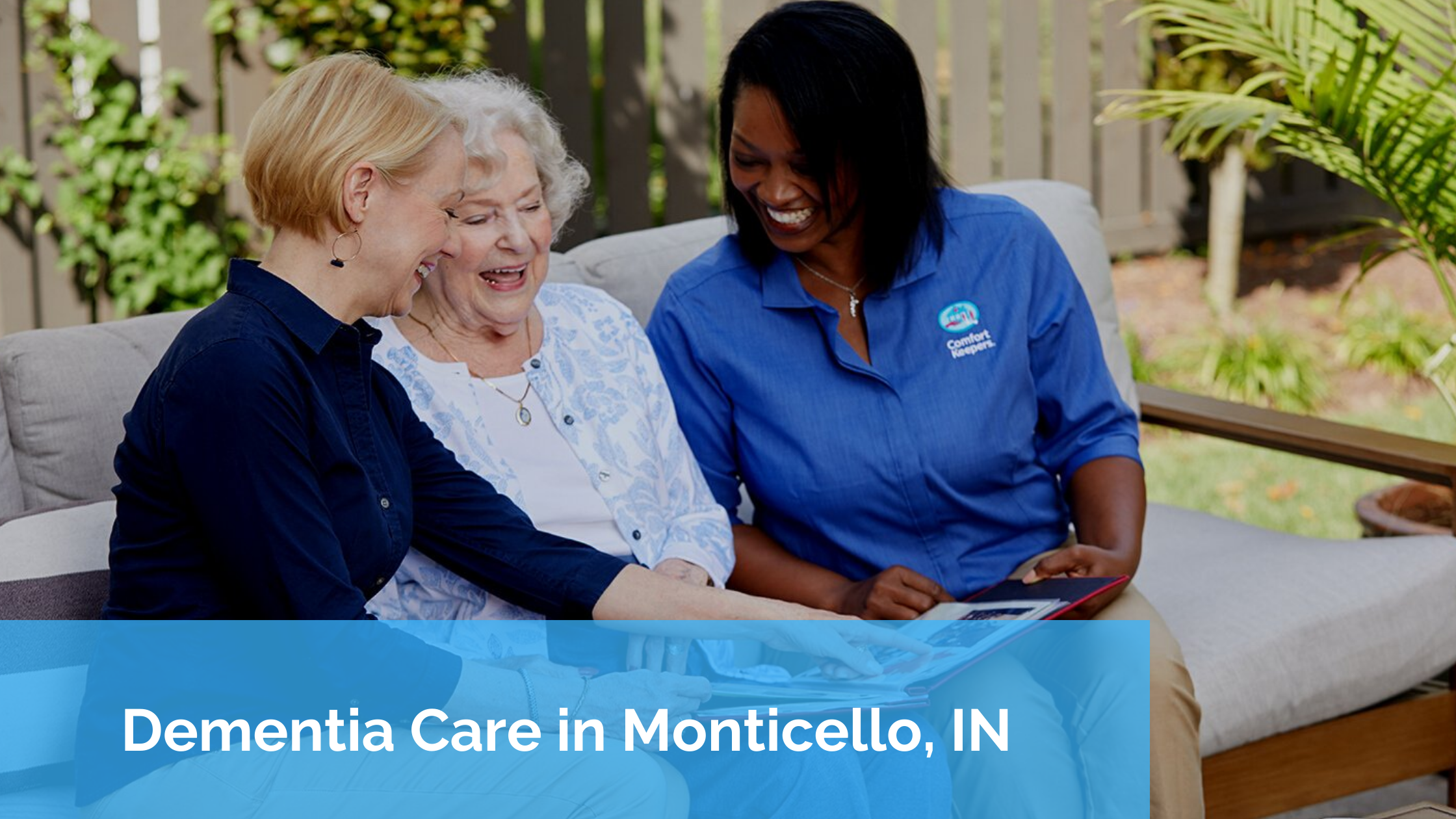 According to Alzheimer's Disease International, 46.3 million people worldwide are living with dementia. Dementia is a chronic disease that causes memory loss, personality changes, and impaired thinking. If your Monticello, IN loved one, is suffering from dementia, Comfort Keepers can help. Our dementia care in Monticello, IN will provide your loved one with the personal care and stimulation they need in the comfort of home.
Comfort Keepers dementia care in Monticello, IN is built on our interactive caregiving philosophy. Interactive caregiving focuses on engaging clients physically, mentally, socially, and emotionally. Our Monticello, IN caregivers, also focus on providing your family with the support you need. Dementia affects more than just seniors, it also affects the families supporting them. At Comfort Keepers, we understand that support is needed family-wide.
Why Consider Comfort Keepers Dementia Care
Comfort Keepers, serving Monticello, IN, has experience working with seniors and families dealing with dementia. We know that stimulation is key to slowing down the progression of the disease and allowing clients to continue to live successfully at home. Our caregivers are compassionate, loving, and understanding. Our caregivers are also provided ongoing training to deliver the best care to dementia suffers in Monticello.
Ready to Learn More About Comfort Keepers Dementia Care in Monticello, IN
Interested in learning more about our dementia care service in Monticello, IN? Call our team of compassionate caregivers today; (574) 626-4336