Knox
Dementia Care in Monticello, IN
Senior Care in Rochester, IN
Caregivers in Monticello, IN
Respite Care in Wabash, IN
Senior Care in Warsaw, IN
Delphi
Respite Care in Rochester, IN
Camden
Rochester
North Manchester
Caregivers in Warsaw, IN
Monticello
Senior Care in Monticello, IN
Elder Care in Rochester, IN
Dementia Care in Warsaw, IN
Respite Care in Monticello, IN
Respite Care in Warsaw, IN
Logansport
Wabash
Alzheimer's Care in Monticello, IN
Rensselaer
Warsaw
Culver
Alzheimer's Care in Monticello, IN
Comfort Keepers provides compassionate and loving Alzheimer's care in Monticello, IN, and the surrounding area. Call (574) 626-4336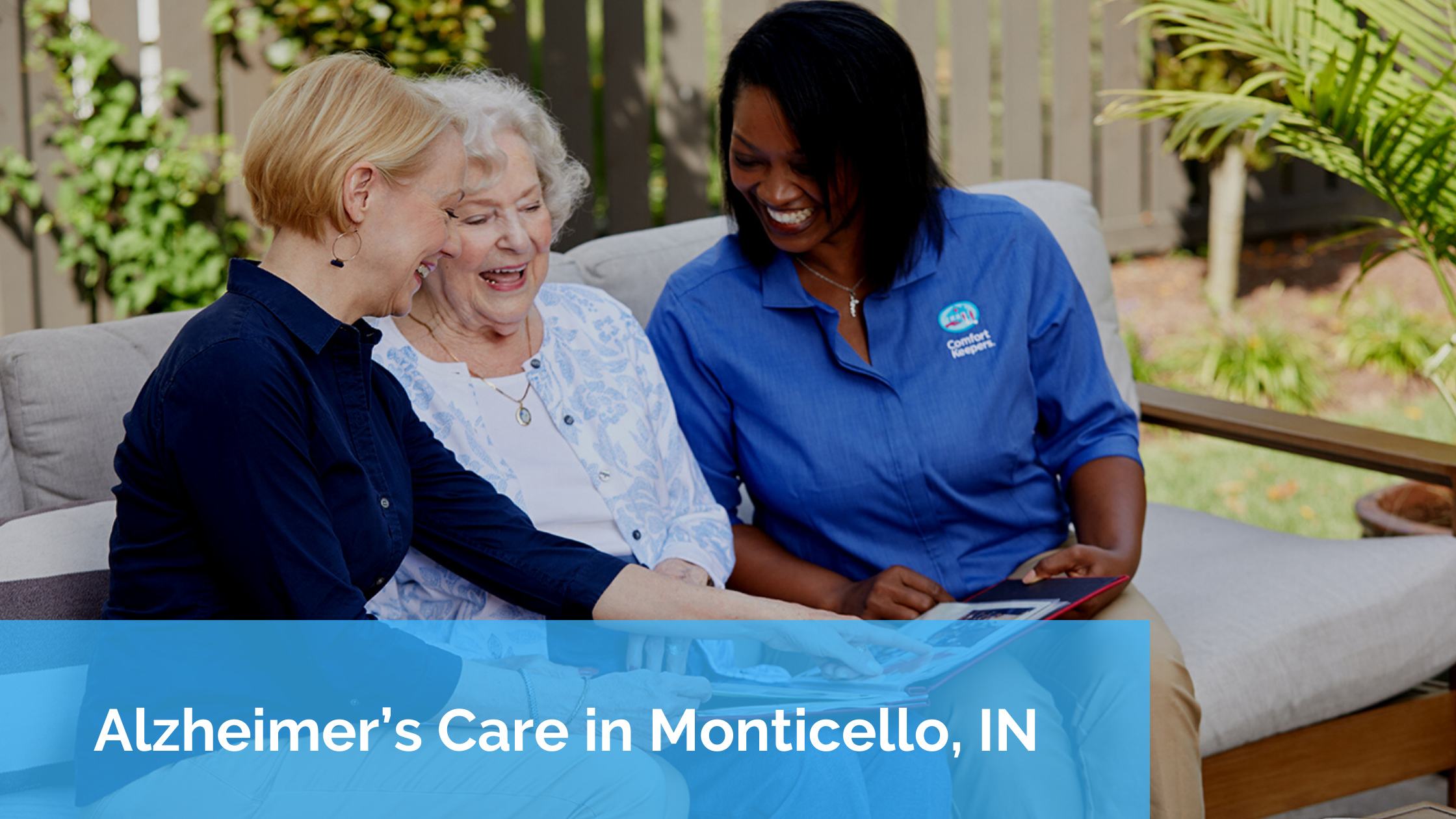 According to the Alzheimer's Association, 5.6 million seniors (age 65 and older) suffer from Alzheimer's disease. The symptoms associated with Alzheimer's disease can vary but a few of the most common are memory loss, challenges planning and solving problems, confusion with time and place, and challenges with speaking and writing. If your loved one is suffering from Alzheimer's then you know how challenging, disheartening, and emotional the disease can be. Seeing a loved one suffer from such a devastating disease puts a lot of pressure on you, your loved one, and your family.
Comfort Keepers can help! We provide Alzheimer's care in Monticello, IN, and the surrounding area. Our team of Monticello, IN caregivers (Comfort Keepers) are trained in providing quality loving in-home care to individuals suffering from Alzheimer's disease and support to their families.
Comfort Keepers Unique Approach to Alzheimer's Care
Our unique approach to Alzheimer's support in Monticello, IN, and the surrounding area is called Interactive Caregiving. Interactive Caregiving focuses on mental, social, and physical stimulation to keep your loved one engaged in an effort to slow down the progression of Alzheimer's disease. Did you know that studies have shown that physical and mental exercise can combat the symptoms of Alzheimer's disease?
Caring for a loved one with Alzheimer's disease is draining. According to caregiver.org 4 out of 10 family caregivers, providing Alzheimer's care, are in a high-burden situation. The same study shows that family caregivers, on average, spend 24.4 hours per week providing support to their loved ones. If you are providing Alzheimer's Care in Monticello, IN we are ready to help to give you the respite you need. We provide care from a few hours per week all the way up to 24-hour around-the-clock care.
Interested in learning more about our Alzheimer's care in Monticello, IN?
Call us today to learn how we can help your loved one remain in the comfort of home. Call (574) 626-4336.