Respite Care For Seniors & Family Members in Hiram, GA, and surrounding areas
Comfort Keepers of Hiram, GA provides superior respite care for seniors when you need a break
Coming to the decision that you need to start providing in-home care for your aging parents may be one of the best and hardest decisions you will ever make. If there is one thing our caregivers can tell you, it's that care for seniors will take its toll. It is physically exhausting, mentally challenging, and leaves you with next to no time for yourself or your own family. Not only can this prove to be challenging for you and your family, in time it can make you less effective as a caregiver. Comfort Keepers of Hiram, GA is here to help with a respite care program designed to give you the support you need.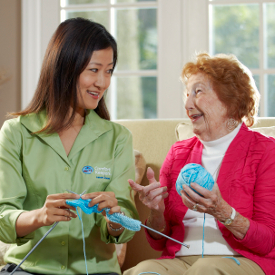 What Are Respite Services?
Known in some countries as "short break" care, respite care services provide planned short-term breaks for families and other unpaid caregivers who need time outside the home or simply take a rest. Respite care helps support and maintain the primary caregiving relationship.
A Little Extra Help Can Make the Difference
When your parent needs a lot of attention and care, keeping them at home instead of in a nursing home or assisted living facility might take more than you have to give. The respite care for seniors we offer is designed to take some of the stress off of you as your parent's primary caregiver. Our programs are designed to be extremely flexible and to provide you with a caregiver on a temporary or part-time basis to give you the time you need to take care of yourself and your family.
Our Respite Care Works to Meet Your Needs
Our respite care program offers a series of short breaks during which you can place the care of your loved one in the hands of one of our highly skilled and personable caregivers. This gives you time to get out of the house, run a few errands, or better yet, spend time with your spouse and family. Our goal is to help you create at least some balance in your life and give you the time to need to refresh and recharge, making you a much better caregiver for your aging parent.
Find Out More
Whether you need an hour a week or you are looking for around the clock care to take your family on vacation, Comfort Keepers has in-home care that fits your needs. If you would like to know more about respite care for seniors, please contact us online or by phone at (770) 268-3867. We offer free in-home consultations where we can come into the home and show you just exactly how we can help you keep your life in balance while giving your loved one the best care possible.