Comfort Keepers Day of Joy Stories: Out to Dinner
Jul 11, 2019 by Alan White
On June 26, 2019, Comfort Keepers celebrated its first annual National Day of Joy. This is a day for friends, family, seniors, caregivers, and loved ones to help spread joy, purpose, connection and hope. We are proud to share moments of joy from wonderful people in our community.
Our first story is shared by Jennifer Jack-Wunder of Comfort Keepers:
 I wanted to share some stories today that really touched my heart.
Mr. Frazier is our client and a Vietnam Vet. On his last day in Vietnam he was walking with his unit to the evacuation point to be picked up and go back to the states, and finally return home, from his service overseas. 
A supply truck came up on them walking and offered a ride to the evac point. 
Unfortunately, the supply truck ran over a land mine and everyone was killed except Mr. Frazier and one other soldier. Mr. Frazier lost his leg in the accident. 
Even though he lost his leg, he continued to live life. He had children and has made a lot of good memories. 
In the last few years, he has moved in with his son, due to health issues. He continues to lose more of his independence and has recently been struggling to stay positive. 
He has established some regular caregivers that have lifted his spirits and brought him daily doses of laughter and hope. 
I wanted to do something really nice that would really wow him for the Day of Joy. 
After speaking to his main caregiver, she said he has mentioned many things, but the wish most talked about was the ability to go out to a good dinner again and have some lamb. He has not had any lamb in a few years and still remembers how delicious the last lamb chops he had were. 
I decided we would find a really good restaurant that served lamb and treat him. 
His caregiver told him we had a special surprise planned for him. When his caregiver arrived, she helped him pick out a nice outfit and get ready, and she changed into a nice outfit as well. Then, she accompanied him to Prime (the restaurant) to have some delicious lamb. 
After dinner, Mr. Frazier asked if he could keep the empty gift card to remember the evening. Sometimes a night out to have a meal at a restaurant is not much to many of us, but to some it brings more joy than we could ever know.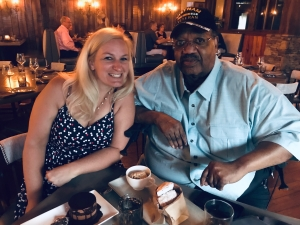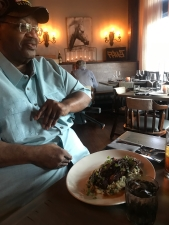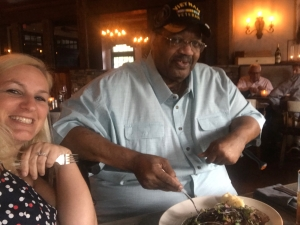 Here are the photos of Mr. Frazier and his caregiver enjoying a good meal and Mr. Frazier finally getting the lamb he has been wanting. 
I hope this story brings you as much joy as it brought me today.