How Will Dementia or Alzheimer's Care Help My Senior Loved One in Central Florida?
Comfort Keepers providers dementia & Alzheimer's care customized to your family's need
We understand how difficult it can be to simply witness a loved one progress through Alzheimer's disease or dementia, let alone provide full-time care for them. You are not alone. We can help care for your loved one at home, giving you the support you need. Providing a family member with Alzheimer's or dementia care in the home can be physically and emotionally draining. We understand the challenges faced by family caregivers and can help ease the burden.
Comfort Keepers Home Care in Vero Beach serving Central Florida and the Treasure Coast provides dementia and Alzheimer's care that goes above and beyond the care provided by other dementia care agencies. We will specifically and carefully design a care plan around your loved one and your family's needs. Our in-home caregivers are also specially trained to provide memory care and have experience with Alzheimer's and dementia persons. Read more
We in Vero Beach, like many other Comfort Keepers offices across the nation, provide customized care for clients who are experiencing symptoms of dementia or Alzheimer's disease. Our Comfort Kein-home in-home caregivers are specially trained and ready to help. For more information on how our caregivers can help slow the progression of these diseases by interacting with your loved one, read "Senior Brain Boosting Tips".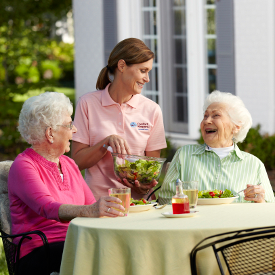 What is Dementia and Alzheimer's Care?
Dementia is a general term describing a decline in mental ability, such as difficulty completing everyday tasks or memory loss, serious enough to affect daily life. Alzheimer's disease accounts for 50 to 80 percent of dementia cases and is the most common type of dementia. Our in-home senior care services help people with these symptoms by focusing on their remaining abilities and strengths while assisting with tasks that have become difficult to perform.
How Can Comfort Keepers in Vero Beach Help?
Our Comfort Keepers® in-home care providers are specifically trained to provide dementia care, and will do the following for your loved one:
help maintain a safe environment for the client.
engage the client in activities that can stimulate the senses, such as music.
provide meals and bathing assistance.
support the client and family through the changing behaviors often seen with dementia.

A differentiating feature of Comfort Keepers Dementia Care in Vero Beach is that we customize our in-home care plans to meet each senior loved one's specific needs, taking into consideration the state of their health, their home, and their family. Depending on your loved one and your family's needs, our team of senior care professionals will coordinate caregiving responsibilities to offer your family full-time peace of mind that your loved one is living safely and happily in the comfort of their own home.