Do you qualify? Find out.
---
Do You Have What it Takes to Be a Comfort Keepers Caregiver in Hollywood, FL?
If you have a loving spirit and like to take an active role in helping others, you possess characteristics that are essential to being a caregiver for Comfort Keepers in Hollywood, Miami, and the surrounding areas of Florida
As a Comfort Keepers caregiver, you will do more than prepare lunch, dust the furniture, or help a client get ready for the day. These are important, of course, but through our unique approach to in-home care, Interactive Caregiving™, Comfort Keepers find ways to actively engage clients in life. This could include cooking favorite recipes together, reminiscing over old photos, visiting friends or attending community events, continuing favorite hobbies, taking a walk, doing puzzles.
These are some of the characteristics of a Comfort Keeper caregiver:
creative
resourceful
able to weave joyful, life-enriching experiences into the fabric of everyday moments
good communicator
confident
professional
flexible
patient
self-motivated
punctual
respectful
discrete
honest
outgoing
organized
Also important for being an excellent caregiver is the ability to accept constructive criticism, solve problems as part of a team, and understand and respect procedures and protocol. If you have these characteristics and want a career that compensates you fairly, offers an opportunity for growth and provides a daily dose of personal satisfaction, contact us today at (954) 289-1938 to learn more about becoming a caregiver for Comfort Keepers in Hollywood, FL.

Our Senior Care Team
Comfort Keepers brings a wealth of knowledge and experience to the Hollywood community that we have served since 2003. We have a dedicated team in our office and in the field, providing senior care services to our clients. We realize that every client and their family have specific needs and concerns and our process is designed to provide services tailored to these specific needs. From a short bath visit or pop-in to round-the-clock and live-in care, we provide flexible and reliable seniorcare assistance.
We have earned the trust of our seniors and their family by taking the time to listen and understanding their care needs then focusing our resources to assist them in as many ways as we can. As we are a part of a large national group, we have access to a large knowledge database regarding elderly care. We thrive on solving problems and finding solutions for our senior community.
What Makes Us Special?
Customer Service
First, we listen - to understanding the needs, priorities, and concerns of our clients. From the initial phone call to ongoing follow-ups - we want to know your concerns and make adjustments as needs change. The safety, health and wellbeing of our clients are our focus.
Reliability
We arrive as scheduled. We are always just a call away to respond to new service requests or schedule changes.
Safety
Our staff completes a thorough background and reference check prior to employment. Our caregivers are our employees and are trained and supervised to ensure that the best quality of senior care is delivered. Additionally, we provide proof of insurance for bonding, worker's comp., liability, etc.
Personalized Services
Each family and client has a unique situation that requires its own care package. As such, a thorough Care Coordination assessment is conducted prior to starting each case. We gather all of the pertinent information needed so that our caregivers can be prepared for the specific needs of each client. This process allows us to make a better match between care needs and services provided.
Comfort Keepers of Hollywood also proudly serves North Miami Beach, Hallandale Beach, Dania Beach, Aventura, Hollywood, Pembroke Pines, Miramar, Cooper City, Plantation, Lauderhill, Sunrise, Lauderdale Lakes, and Carol City.
Our Caregivers
We have a team of seasoned Comfort Keepers and are always adding new recruits. Our caregivers love caring for the elderly and sick and have a passion for improving the lives of others through their work. We are very careful with our selection process as we try to hire only those who have a caring heart.
We are leaders in senior care.
There are many home health care options in South Florida and we thrive to stand above the rest by providing great customer service, personalized attention, reliable and safe service delivery and a meaningful work environment for our employees.
Our Mission
Our mission is to provide our clients with the highest level of quality of life that is achievable. We shall treat each of our clients with the respect and dignity they deserve, as though we were caring for a member of our own family.
The special people who deliver our unique brand of in-home senior care (We call them Comfort Keepers®.) are carefully selected, screened, and trained to provide professional, compassionate care.
Our Philosophy
Interactive Caregiving™ is based on four primary pillars, which Comfort Keepers leverage to care for, engage, and interact with our clients:
An active senior mind promotes independence, better mental and physical health, happiness, and a longer life.
A physically active senior maintains strength and independence, lessening or delaying the effects of aging.
A well-nourished senior is more energetic, both physically and mentally.
A safe senior lives in an environment that reduces the likelihood of accidents and promotes timely response when illness or accidents occur.
With our Interactive Caregiving approach, we are able to raise seniors' quality of life to a much higher level than typical in-home care providers.
Transitioning Home Safely Brochure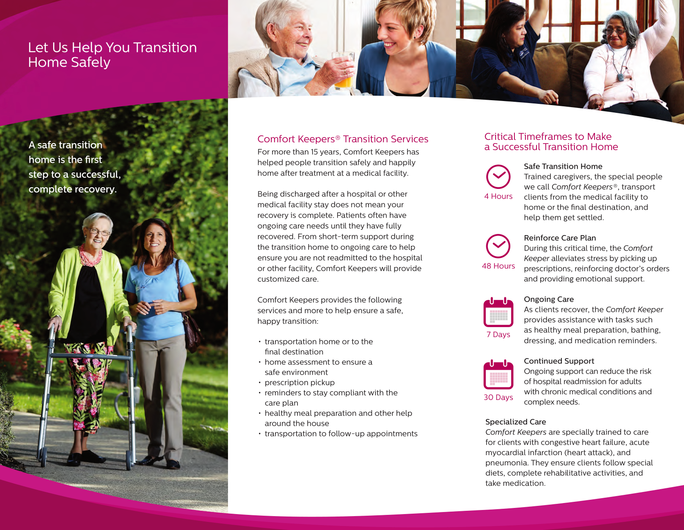 Our Home Care Licensing
Home Health Agency: HHA #299992158
Homemaker Companion Services: HCS #228495