Do you qualify? Find out.
---
Are You a Comfort Keeper? - Starting Your Career with Comfort Keeper of Hollywood, FL
Learn more about what it takes to join one of the best senior home care agencies in the US and beyond
At Comfort Keepers, we are always on the lookout for quality caregivers to join our team. But we do have very high standards when it comes to bringing in new people, as we only want the absolute best for our loving clients.
Becoming a Comfort Keeper in Hollywood, FL can be the beginning of your best job experience ever. We are not like other care agencies that only focus on providing help with tasks like cleaning the home or preparing meals. While these are undoubtedly important activities that contribute to our client's health and well-being, we also think it is very important to make sure they are physically, mentally, and socially engaged.
What to expect as a caregiver
We can elevate our clients' lives and make a real difference in this community through our unique, industry-changing Interactive Caregiving model of care. This model revolves around encouraging seniors to participate in their care and creating opportunities for them to engage in favorite activities. Through Interactive Caregiving, caregivers and clients can go on walks, watch movies, prepare meals together, go shopping, visit family and friends, attend community events and church services, and so much more.
And the best part is that Interactive Caregiving is completely personalized to meet the needs and wishes of each client. When you pair this with our policy of matching clients with compatible caregivers, you get a win-win situation for both the client and caregiver.
That said, we expect our caregivers to be:
Creative and resourceful
Good listeners
Confident
Professional and punctual
Well organized
Honest
Compassionate
Dedicated
Respectful and discreet
We also expect our caregivers to be able to handle constructive feedback and criticism, to work as part of a team, and follow all company policies and procedures.
Benefits of becoming a Comfort Keeper
Our hiring process involves interviews and background/reference checks. While this process may be strict, the caregivers who pass it can enjoy the many benefits of working for Comfort Keepers, including:
Flexible work schedule that fits your needs
Part-time and full-time work opportunities
Competitive pay and regular bonuses
No experience is needed, as Comfort Keepers offers paid training
Opportunities for advancement
Online courses and certifications
And much, much more
Contact us today!
If you think you have what it takes to be a Hollywood Comfort Keeper, we really want to meet you. Please call our office today to learn more! We look forward to meeting you and welcoming you to our ever-growing team!

Transitioning Home Safely Brochure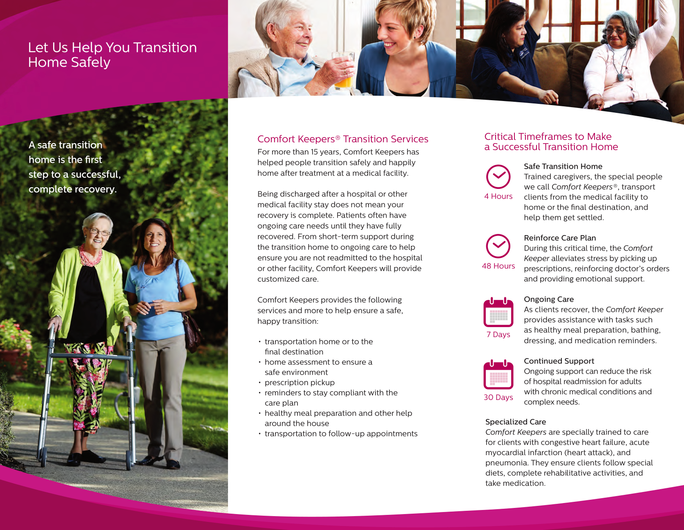 Our Home Care Licensing
Home Health Agency: HHA #299992158
Homemaker Companion Services: HCS #228495