Comfort Keepers Adult Home Care in Hollywood, FL and Surrounding Areas
Comfort Keepers proudly provides excellent adult home care services in Hollywood, FL
Overview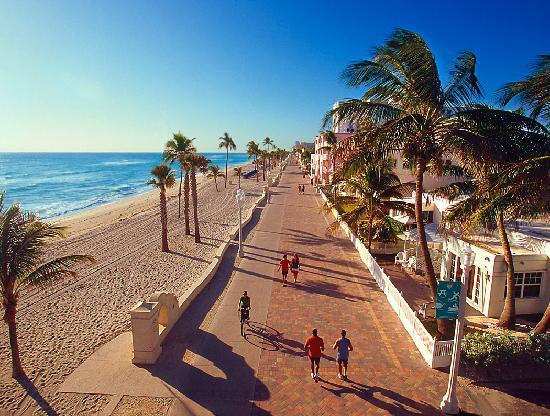 We bring a wealth of knowledge and experience to Hollywood and the surrounding communities we have served since 2003! Our office staff and many of our caregivers have lived in the area for over 30 years. We have a dedicated team in our office and in the field, providing senior care services to our clients. We realize that every client and their family have specific needs and concerns and our process is designed to provide services tailored to these specific needs. From a short bath visit or pop-in to round-the-clock and live-in care, we provide flexible and reliable adult home care.
We have earned the trust of our seniors and their family by taking the time to listen and understand their care needs, then focusing our resources to assist them in as many ways as we can. As we are a part of a large national group, we have access to a large knowledge database regarding elderly care. We thrive on solving problems and finding solutions for our senior community.
About Hollywood
Hollywood is a city located in southeastern Broward County, Florida, nestled between Miami and Ft. Lauderdale. With approximately 6 miles of beaches and an annual average of 246 sunny days, Hollywood is a popular vacation spot all year round. From renowned golf courses like Orangebrook and Diplomat Golf & Country Clubs, to great shopping malls such as Aventura and Sawgrass, the area is teeming with activity. Other popular attractions amongst our clients include:
Gulfstream Village and The Shops at Pembroke Gardens for casino, restaurants, and shopping
Hollywood Beach Boardwalk
ArtsPark at Young Circle
Broward Center for Performing Arts
The city is also home to Memorial Regional Hospital. Opened in 1953, Memorial is one of the largest hospitals in Florida, with a distinguished reputation for advanced medicine and technology and high-quality in home health care services.
Services in Hollywood
Our expert caregivers provide personalized care plans that may include personal care, companionship-homemaker services, as well as our unique style called Interactive Caregiving. We help seniors and other adults live an active, independent, quality life. Whether it is a trip to the grocery store, fitness center, beauty salon, doctor's office, or even the beach, our caregivers are right there with them.
Areas Served
Customized In-Home Senior Care in Hollywood, FL
Comfort Keepers® offers a complete range of adult home care services to families just like yours in Hollywood FL. Our expert caregivers provide professional, reliable and uplifting care to your loved one. A customized care plan is developed to address the needs of each individual client. Caregivers are carefully selected and matched with our clients based on their personality, having the right skill set, having general experience with a client's particular needs, and being geographically near the client's home.
Our caregivers are screened, trained, insured and bonded. Senior care services are available ranging from few hours a week to 24/7 round-the-clock care.
Below is a summary of some of the available adult home care services in Hollywood, FL.
Homemaker / Companion Care
Every senior has unique care needs and situations. Comfort Keepers offers a full range of companionship and personal care services. Seniors who are able to live independently and need very minimal care may enjoy a visit from our visiting caregiver – they can indulge in conversations, play favorite board/card games with seniors, visit with family and friends as well as other activities. To allow the seniors to stay independently and safely at their home in Hollywood, services such as meal preparation, laundry, light housekeeping, grocery shopping/errands, incidental transportation and medication reminders can be added into the routine.
Personal Care
Our loving and caring, yet professional caregivers treat each senior with respect and dignity. We can help your loved one with essential tasks of daily living such as bathing, grooming, transferring, positioning, toileting and incontinence care, feeding and more.
Respite care
Respite care services give you time to leave the home for a few hours or even a few days, knowing the one you care for is in good hands. You can take some personal time, family time or a vacation while we tend to senior's needs.
Transitioning Home
This specialized care helps ease your loved one's transition from hospital or rehab center when they are released to come home.
Dementia and Alzheimer's Disease Care
Our specially trained caregivers provide customized care for seniors who are experiencing symptoms of Dementia or Alzheimer's disease. We apply our unique approach to providing care, called Interactive Caregiving ™, that transforms the day-to-day caregiving into opportunities for meaningful conversation and activities that engage and enrich the lives of seniors physically, mentally, socially, and emotionally.
End of Life Care
Comfort Keepers can support you and your loved one, by working with a hospice agency or medical provider to fully meet the family's care needs.
To get started, the next step is to give us a call or fill out the form below and speak with one of our care coordinators. We will discuss your needs, answer any preliminary questions and setup a free, no obligation in-home consultation. You can reach us at (954) 289-1938, 24 hours a day, 7 days a week to discuss your adult home care options.