Comfort Keepers Atlantic Beach, FL
Atlantic Beach Region
Atlantic Beach, Florida 32233
(904) 298-2273
SafetyChoice MedMinder Medication Management
The Smart Way to Remember Medication Doses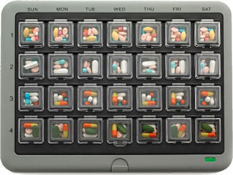 An in-home caregiver can be instrumental in reminding clients to take medications, but what about when your loved one is alone? We have developed a home care device to help. Comfort Keepers SafetyChoice MedMinder uses smart technology to alert clients when it is time to take a medication dose. This wireless pillbox l ocks to keep medications safe and secure, and unlocks only when it is appropriate. Because it is connected to cellular, it can be easily programmed and managed online via a secure portal.
The device senses if the client has not taken a scheduled medication dose and will send a text or email notification to the client or in-home caregiver.
Clients can also log into the secure Internet portal to track when they have taken medications and when or how often they have missed doses. This means they can easily keep their doctors informed, taking the guesswork out of medication management.
Easy to program, fill, and manage, the SafetyChoice MedMinder is the smart way to remind clients to take their medications. Home helpers like this make everyone's job easier.
SafetyChoice MedMinder Features:
MedMinder's (JON model) audio and visual reminders are ideal for hearing impaired or low-vision subscribers.
The cellular-based unit requires no landline or Internet connection.
The unit has 28 compartments that can hold 7 days of medications with up to 4 doses a day, or 14 days with up to 2 doses a day.
Each compartment is large enough to fit up to 12 pills.
A secure portal keeps activity records for easy viewing and tracking by the client or caregiver.
Comfort Keepers also offers the SafetyChoice TabSafe medication system, which connects to the monitoring center via a landline. Contact your Comfort Keepers office for more information on this and other SafetyChoice home care products.
Home Safety Assessment
Comfort Keepers can provide an in-home assessment to evaluate your safety needs and recommend the right medical alert products. Comfort Keepers will visit the home, work with the family to determine the specific needs, and demonstrate how these home medical alert devices can help seniors stay safe and independent at home.