Make Healthy Meal Choices With In Home Senior Care  in Wallingford, CT
Here in Wallingford, CT the Comfort Keepers in home senior care program comes with a caregiver who can create meals your loved one will be excited for
The hardest part of growing older is learning to cope with no longer being able to handle many common tasks such as preparing nutritious meals.
Despite this seniors should NEVER have to deal with malnutrition!      
When the time comes when seniors can no longer work their way around the kitchen, they often turn to diets of processed foods with no real value when it comes to senior nutrition.
To help with this, the in home senior care offered by Comfort Keepers of Wallingford, CT can help with caregivers who have undergone specialized training in senior nutrition and preparing nutritious meals.
Give us a call at (203) 457-3159 to learn more!
Our In Home Senior Care Providers Can Make a Difference
Part of aging includes learning there are many things we can no longer do and that our minds and bodies are starting to slow down. When your loved one is dealing with this and is taking several medications, things can only get worse and your loved one might:
Start to see a decrease in appetite
Notice changes in their sense of taste
Might find their body becomes slower at producing natural nutrients
Find their body becomes slower at producing natural nutrients
When your loved one is not getting proper nutrition, it can lead to malnutrition, illnesses, diseases, and injuries like broken bones that take a long time to heal. The best way to prevent this is to make sure your loved one eats a well-balanced diet.
Our Caregivers Can Work Miracles
Well, almost, what they can do is provide a range of services for your loved one to help them eat better. We prefer to think of our caregivers as nutrition magicians in the kitchen preparing amazingly tasty meals and more. They can:
Assist with planning meals – working with our loved one to create tasty and nutritious meals, doing things like swapping recipes and having fun together!
Assist at the grocery store – if your loved one cannot drive or has a hard time pushing the shopping cart, our caregivers can drive them to the store and assist with the shopping. If your loved one can't go shopping, our caregivers can take care of it for them.
Assist in the kitchen – if your loved one is having a hard time in the kitchen with activities like cutting, peeling, and chopping, (these are good activities for hands and minds), our caregivers can help. In the event they can't handle any part of meal preparation, our caregiver can take care of everything from start to finish for them.
Assist with feeding – if an illness, disease, or injury has left your loved one unable to feed themselves, our caregivers can cook meals that are easier to eat and assist them with eating their meals.
Making Life Better for Your Loved One
When living on a fixed income, many seniors find they have to choose between paying the power bill or eating healthy foods. This situation leaves many with no choice but to eat cheap boxed foods and frozen meals. None of this adds anything in the way of senior nutrition. What they may not realize is that by the time they pay for medicines, doctors, or supplements typically end up costing more than it would to eat healthily.
With the help of numerous agencies, our in home senior care providers can help turn this situation around and use the foods supplied by the SNAP program to help your loved one prepare delicious meals. Others like Meals on Wheels can provide hot meals during the week and leave extra meals that can be heated on the weekends for your loved one.  
Your loved one can benefit from agencies like:
Find out what other benefits your senior qualifies for.
You can also help by:
Make a shopping list and stick to it 
Watching for sales and coupons 
Buying foods that are in season 
Looking for deals at the supermarket and comparing them to those at the farmer's market
Planting a garden of fruits and vegetables
Comparing food labels, just because an item costs more doesn't make it better!
Keeping foods stored in the fridge or freezer to extend their lives
Choosing fresh food options first 
Just because seniors require fewer calories doesn't mean they don't need to eat healthy nutrient-dense meals. It is vital that your loved one's diet includes:
Protein/Fish
Low Fat Dairy
Whole Grains
Fruit
Vegetables
Should you need more information on senior nutrition, your loved one's doctor can help. The caregivers that are part of our in home senior care program are also wells of information on this same topic.
When you go grocery shopping, be sure you read the nutrition facts panel on anything you plan to buy. Not all foods are as healthy as their manufacturers want you to believe.
The average nutrition facts label looks like this: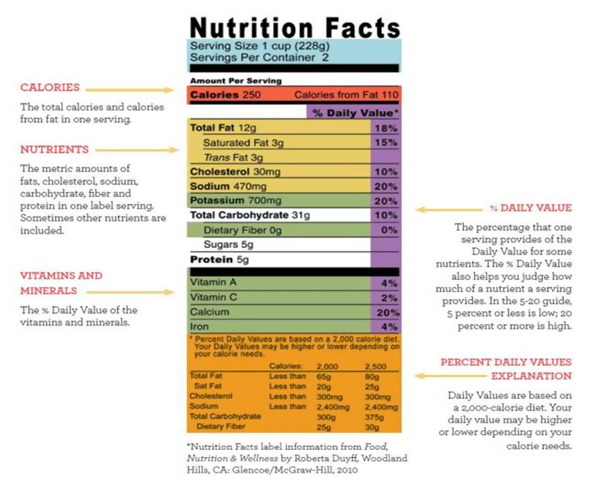 Image provided by the National Council On Aging
Your Loved One's Favorite Foods
While your loved one does need to eat healthy meals, there is no reason why they can't still enjoy their favorite foods, you just need to learn how to make them in healthier ways. This means less sugar (use stevia instead, zero calories and as sweet as sugar), salt, and fats to make them.
Contact Us
If you would like to learn more about how our in home senior care and outstanding caregivers can help by providing the highest possible levels of senior nutrition, contact Comfort Keepers of Wallingford, CT at (203) 457-3159 and let us schedule your free care consultation with one of our experienced senior advisors.