Solve Diet And Nutritional Issues With At Home Senior Care in Madison, CT
Solutions can be sought to help your senior eat better
One of the hardest parts of growing older is realizing there are some tasks, like cooking, you can no longer handle.  When many seniors find they can no longer handle everything that goes into cooking healthy meals, they often turn to processed box and frozen foods that offer nothing in the form of senior nutrition.
An at home senior care plan offered by Comfort Keepers serving Madison, CT includes a skilled caregiver who has been trained in all phases of senior nutrition. They are skilled in the kitchen and capable of cooking meals your loved one is sure to look forward to.
Give us a call at (203) 493-7564 to learn more!
Our Services Can Help
Part of growing older includes seeing our physical and mental abilities start to decline. We don't see as well, our fingers don't move as easily, and our brains start to slow down. Add this to the various medications most seniors take, and you have a recipe for disaster. Your loved one might:
Find their body becomes slower at absorbing outside nutrients
Notice changes in their sense of taste
Start to see a decrease in appetite
Find their body becomes slower at producing natural nutrients
When a senior suffers from malnutrition, they are at risk of a variety of illnesses, diseases, and serious injuries. They can also take longer to recover from an illness or injury. The best way to avoid this situation is to ensure your loved one gets the perfect balance of nutritious foods.
Our Caregivers Can Help
When you get right down to it, our caregivers are true champions of good senior nutrition. Our caregivers offer a range of services as part of our at home senior care plan, including:
Planning delicious meals – our caregivers work with your loved one, swapping stories and recipes, making, creating delicious meal plans a lot more fun!
The grocery store – many seniors can no longer drive a car, let alone handle a shopping cart full of groceries. Our caregiver can provide transportation to the store, assist with the shopping, and if necessary do all the shopping for your loved one.
In the kitchen – preparing healthy meals often involves a lot of cutting, chopping, and peeling, not to mention heavy pots and pans. While performing these actions can be good for your loved one's hands and mind, they may not be able to do them. Our caregivers can work with them or take over and do everything from peeling to cleaning up after the meal.
Feeding – some illnesses, diseases, and injuries can make it difficult for seniors to eat. Our caregivers can provide meals cooked for them that are easier to eat and they can help them with eating as necessary without making them feel embarrassed.
Our Caregivers Can Make Life Better for Your Loved One
There is nothing easy about living on a fixed income as a senior citizen. There always seems to be another bill to pay and never enough money to buy good healthy and nutritious foods. Many of our seniors live on a steady diet of frozen dinners and boxed processed meals. Those who live this way often find they spend more on supplements, prescription medications, and visits to the doctor than they would on healthy foods without realizing it.
The good news is that there are local, state, and federal programs and agencies who can help your loved one. For example, Meals on Wheels delivers hot meals every day and ready to heat meals when they can be there. Others like SNAP can help your loved buy the healthy foods they need. With at home senior care like this, our caregivers will have foods they can use to create amazing meals for your loved one that meet all senior nutrition needs.
Among the various agencies are:
Find out what other benefits your senior qualifies for.
Other ways you can help your loved one include:
Creating a shopping list to stick to
Looking out for coupons or sales
Shopping for foods that are in season
Seeing what you can get at the grocery store versus a farmer's market
Growing your own fruits and veggies
Reading and comparing food labels (healthy doesn't always mean expensive!)
Storing food in the refrigerator or freezer so they keep longer
Buying fresh food options first
It's true that seniors require fewer calories than they did in their prime, but this DOES NOT mean they don't still need plenty of tasty nutritious meals.
Be sure your loved one's meals contain a selection of these nutrient-dense foods:
Vegetables
Protein/Fish
Fruit
Low Fat Dairy
Whole Grains
If you need more senior nutrition information, you might consider talking to your loved one's doctor. Along with this, the caregiver that comes with our at home senior care program has a wealth of knowledge on the subject of nutrition for seniors.
When walking down the aisles in the grocery store be sure you take the time to read the nutrition facts label as not all foods are as healthy as they claim to be.
Typical nutrition facts label: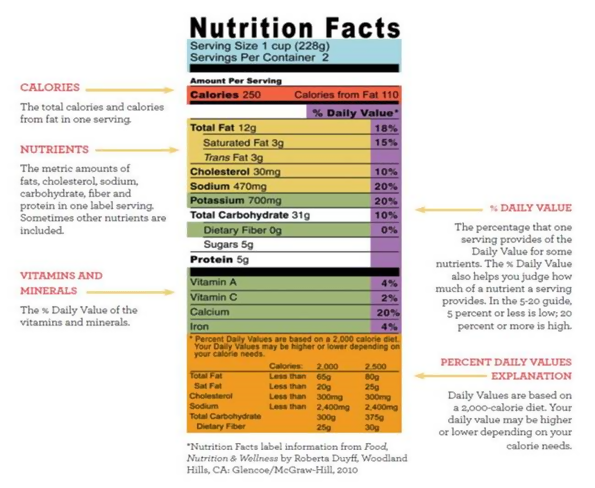 Image provided by the National Council On Aging
Can Your Loved One Still Have Their Favorite Foods?
It might seem that by insisting your loved one eats a healthy, well-balanced diet that they can no longer enjoy their favorite foods. This is not necessarily true; all you have to do is learn to make them in a healthier way. This means using fewer fats, sugar, and salt, which if you are careful your loved one won't even notice.
Contact Us
To learn more about our at home senior care, our caregivers, and senior nutrition contact Comfort Keepers of Madison, CT at (203) 493-7564 and schedule your free care consultation with an experienced senior advisor today!