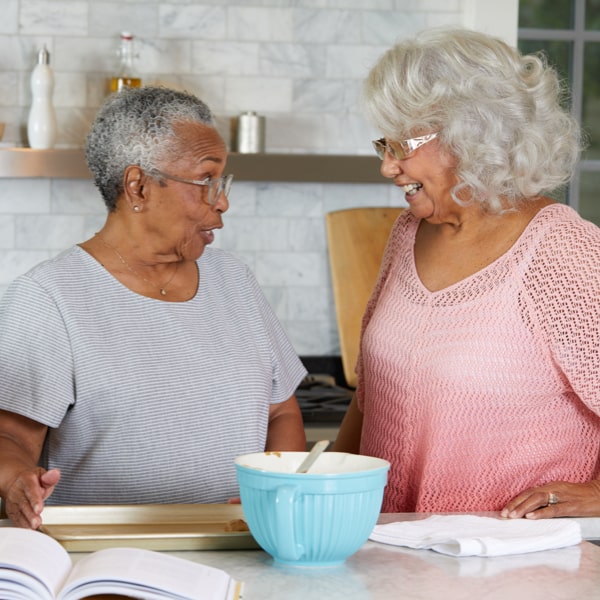 Quality Home Care Services for Seniors in Russellville, AR
We provide quality in home care services to seniors in Russellville, AR and the surrounding areas so they can live comfortably in their homes
Uplifting In-Home Care
In-home care isn't a one-size-fits-all approach. Comfort Keepers of Russellville, AR provides home care services tailored to each senior's needs and unique living situations.
Studies show that most seniors want to remain in their homes for as long as possible. We provide specialized services, including companionship, personal care services, transportation and respite care, to help seniors and elderly adults achieve the goal of staying in their own homes for as long as possible. Our home care services focus on physical needs and overall mental health and well-being. We believe that everyone should experience connection, purpose and hope, no matter how old they are or how much daily help they need. It's our goal to elevate the spirits of our senior clients and their family members every day.
Prioritizing Quality Care
Home care starts with our caregivers, the dedicated individuals who strive to provide the best possible care for each senior client we serve. In addition to professional training, our caregivers are thoroughly screened and must pass a background check. We also screen potential caregivers for their compassionate and caring personalities. 
We want you and your senior loved one to feel as comfortable and as trusting as possible with the caregiver we assign, which is why we conduct complimentary in-home assessments to get to know and understand your loved one's likes, dislikes, needs and abilities.
Peace of Mind for Loved Ones
By helping seniors maintain their independent lifestyles, we provide peace of mind for family members who might otherwise worry if their senior loved ones are taking proper care of themselves. Whether you live far away or simply are busy with work and your own daily responsibilities, our caregivers will care for your loved one as if they were their own, providing quality care that exceeds your expectations. 
We also provide advanced technology that offers real time updates, full transparency and regular communication with your loved one's care team from the convenience of your phone or laptop.
Customized Care Plans
Our home care services begin with an in-home visit. Our professionals complete a comprehensive assessment and develop a care plan that is customized for each senior client. Some seniors may only need occasional help with daily activities and household chores., while other requires full time, 24-hour care. Whatever the situation, we will with you and your loved one to create an individualized plan of care for services. We will also complete a free Home Safety Assessment and offer recommendations to improve the safety of their home and living space.
We know how important it is for many seniors to continue living in their homes, and we are proud to make that possible.  Contact us online or call us at (479) 240-2197  to learn more about Comfort Keepers personalized care in Russellville, AR, and surrounding areas.
Comfort Keepers Home Care of Russellville, AR is proud to serve the following areas of Arkansas:
Altus, AR Clarksville, AR Conway, AR Danville, AR Dardanelle, AR Greenbriar, AR Morrilton, AR Russellville, AR