Dementia Care & Alzheimer's Care in El Dorado, AR & Surrounding Areas
Comfort Keepers of El Dorado, AR provides specialized dementia care and Alzheimer's care to support your loved one at home.
Providing dementia care or Alzheimer's care for a senior loved one can be physically and emotionally draining for family caregivers. Comfort Keepers of El Dorado, AR recognizes the challenges faced by family members and can help ease the burden with specialized in-home care services. We provide customized senior care for clients who are experiencing symptoms of dementia or Alzheimer's disease.
There are an astonishing amount of seniors in El Dorado, AR and the surrounding areas who find themselves coping with these diseases, and our Comfort Keepers office is highly qualified and ready to help. We extensively train each of our in home caregivers to accommodate the home health care needs required of Alzheimer's care or Dementia care. Depending on your senior loved one's unique health situation, in home care services could be required for a few hours a week, or in more severe cases, 24 hours a day. Unfortunately, most family caregivers have too many other responsibilities and time commitments to provide the dedicated care their senior loved one deserves.
While our specialty is at home care, we provide a significant amount of resources in ensuring that our home health aides are ready and able to help your loved one with everyday personal care tasks, light housekeeping, medication management and more. We focus on ensuring that your loved one feels comfortable under our care. For seniors living with dementia or Alzheimer's disease, there is not yet a cure. We approach dementia care with sensitivity, patience, and understanding; your loved one may easily become forgetful and frustrated. A significant amount of comfort comes from following the same daily routine so that the senior knows what to expect and is comfortable with the individual providing care. Comfort Keepers Home Care in El Dorado, AR is ready and able to help you and your family with this specialized care.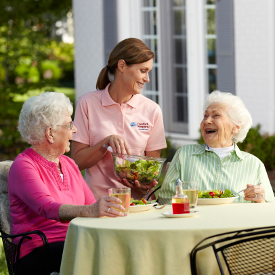 What is Dementia and Alzheimer's Disease Care?
In general, dementia is a decline in mental ability, such as memory loss or an inability to complete familiar tasks, serious enough to interfere with a person's daily life. Alzheimer's disease is the most common type of dementia, accounting for 50 to 80 percent of dementia cases. Our dementia care services help people with these symptoms by focusing on their remaining abilities and strengths while assisting with tasks that have become difficult for the client to perform.
How Alzheimer's Care Can Help
Our specially trained home care professionals will
help maintain a safe environment for the client.
engage the client in activities that can stimulate the senses, such as music.
provide meals and bathing assistance.
support the client and family through the changing behaviors often seen with dementia.
 
If you would like to learn more about our Dementia Care and Alzheimer's care services, please do not hesitate to contact us or call (870) 293-6366. Our care coordinators would be happy to answer any questions about elderly home care services or schedule a free in-home consultation.
Comfort Keepers of El Dorado, AR is proud to provide care services to seniors in the following communities:
El Dorado, Camden, Magnolia, Crossett, Farmerville, Homer, Hamburg, Fordyce, Downsville, Hampton, Haynesville, Marion, Taylor, Waldo, Bernice, Smackover, Spearsville, Junction City, Strong, Bearden, Chidester, Sparkman, Emerson, Stephens, Mc Neil, Louann, Athens, Huttig, Lillie, Thornton, Carthage, Montrose, Mount Holly, Portland, Wilmot, Fountain Hill, Summerfield, Parkdale, Calion, Lisbon and the surrounding areas