Want to Stay Mobile? Get Positioned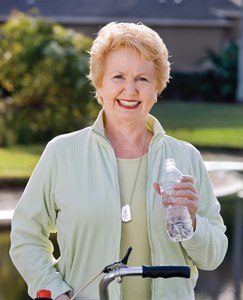 Imagine staying indoors, afraid to leave the house during winter because ice and snow present such a great risk for falling. Maybe you live in a beautiful, warm climate, but you have stopped some of your activities, like hiking, exploring, or walking for fear you may run into problems and be unable to summon help. This idea is not very farfetched; many adults begin to limit their activities as they age, believing that as they age, they are able to do less physically. The irony is that remaining active is exactly the key to aging gracefully and maintaining health.
Mobility is a strong contributor to quality of life as it allows the person to move around independently and make decisions about where he or she would like to go and when. Numerous studies show that activity and mobility help stave off chronic conditions and diseases such as diabetes, dementia, heart disease, and others. Mobility allows aging adults to remain independent longer so they can enjoy their normal, or new, activities without necessarily needing to depend on others for assistance. Thanks to technology, seniors can continue active lifestyles and have access to assistance if needed.
Global Positioning System (GPS) for Mobility
Perhaps one of the most useful technologies to be developed as assistive technology is the Global Positioning System (GPS). GPS was developed by the U.S. Air Force for military positioning, navigation, and weapons aiming, but has since been expanded for use by the civilian population. It is now used in most automobiles and cell phones and is used extensively by outdoor outfitters and hikers as an aid in navigating trails and park systems.
More recently, GPS has been used in assistive technologies to aid people with impairments and help older adults remain independent and active. Talking compasses and talking GPS units that tell the user his or her location, street names, distances covered, or distance to the destination have been developed for the blind and visually impaired. These allow the person the freedom to travel and independently enjoy recreational activities like boating, sailing, and hiking. Devices like these can be used by otherwise healthy seniors with macular degeneration and other eye impairments.
Personal emergency response systems (PERS) have also begun to take advantage of GPS. Older PERS models have the disadvantage of confining the senior to the home or, at best, the yard. This type of device is too constrictive for older individuals who are in generally good health and who want the freedom to move around but with the knowledge that help is at hand in the event of an emergency. With GPS-based PERS units, senior adults can take long walks or hikes, explore local parks, or go almost anywhere and still get assistance if needed. These devices can be activated by the wearer but also come equipped with sensors that detect if the wearer has fallen, automatically contacting the monitoring center for help in these cases.
GPS can offer relief for families of senior adults with Alzheimer's disease and other forms of dementia and as well. Of great concern in these cases is the possibility that the older adult with dementia will wander off and get confused and lost. GPS units that the senior can wear around the neck, on the wrist, or attached to clothing can alert caregivers and family as to the location of the senior if he or she should get lost. With one in nine senior adults in the U.S. suffering from Alzheimer's today, this particular piece of technology can be a lifesaver for those in need.
Assistive technologies using GPS have the potential to open the world for seniors who are hesitant to become involved in new activities or for those wishing to carry on with their lives as usual. Technology is opening the doors for older adults so their lives are less restrictive and more enjoyable. Getting older does not have to mean doing less. For more information on assistive technologies and personal, in-home care, contact your local Comfort Keepers® office today.
References
Alzheimer's Association. (2014). 2014 Alzheimer's disease facts and figures. Alzheimer's & Dementia, 10(2). Retrieved from http://www.alz.org/downloads/facts_figures_2014.pdf.
Boger, J. and Mihailidis, A. (2011). The future of intelligent assistive technologies for cognition: Devices under development to support independent living and aging-with-choice. NeuroRehabilitation 28, 271–280. DOI 10.3233/NRE-2011-0655. Retrieved from http://eecs.wsu.edu/~cook/gt/hw/boger.pdf.
Leibs, A. (n.d.). Trekker Breeze talking GPS. Retrieved from http://assistivetechnology.about.com/od/ATCAT1/p/Trekker-Breeze-Talking-Gps-Handheld-For-Blind.htm.
National Center for Chronic Disease Prevention and Health Promotion. (2013). The State of Aging and Health in America 2013. http://www.cdc.gov/features/agingandhealth/state_of_aging_and_health_in_america_2013.pdf.
National Institutes of Health: Senior Health. (n.d.). Exercise: Benefits of exercise. Retrieved from http://nihseniorhealth.gov/exerciseforolderadults/healthbenefits/01.html.
OpenRouteService. (n.d.). Intro. Retrieved from http://www.openrouteservice.org/contact.php#Intro.
Reece, M.E. (April 2000). Global Positioning System. Retrieved from http://infohost.nmt.edu/~mreece/gps/history.html.
VisionAware. (n.d.) Sailing and Boating After Vision Loss. Retrieved from http://www.visionaware.org/info/everyday-living/recreation-and-leisure/sports-and-exercise/sailing-and-boating/1235.