The Obesity Epidemic: How Does It Affect Seniors?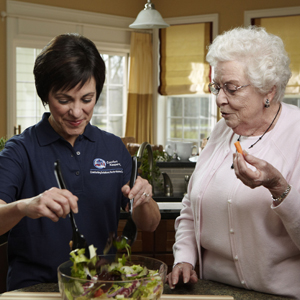 Obesity, today, is a hot topic. In fact, due to the significant rise of obesity in children and the subsequent health issues it causes, health experts predict that today's children may have shorter life spans than their parents. This projection has parents, the medical community and other health advocates promoting significant lifestyle changes and better eating habits for children in hopes they achieve brighter health statistics in their futures.
Another population suffering the effects of the obesity epidemic that is garnering widespread attention is America's seniors. Many seniors battle weight issues, often thought of in terms of being too thin or malnourished. However, the growing population of seniors at risk of being overweight faces obesity-related serious health issues, as well, including the risk of osteoporosis, cardiovascular disease, arthritis, loss of memory and an even higher risk of developing dementia in later years.
nIn short - proper eating habits should begin early in life and continue through the golden years. The problem is - no one is that perfect and today's fast-paced, fast-food society makes it easy to deviate from healthy choices. However, no matter what age, practicing healthy nutritional habits can make a big impact on a person's overall health.
Caregivers of seniors play an important role in ensuring seniors consume healthy, well-balanced diets. Simply interacting with seniors by helping them shop for nutritional items at the grocery store, choosing healthy snack alternatives, and planning menus that provide adequate nourishment without unnecessary calories are key. Preparing healthy meals together can foster better eating habits and provides an activity enjoyed by all. Dining with seniors whenever possible adds another opportunity to oversee healthy food choices. This also offers seniors a bit of socialization, making seniors feel less lonely and isolated than when dining alone. Companionship during meals stimulates appetites, paving the way for seniors and caregivers, alike, to eat proper amounts of nutrient-rich foods.
The benefits of good nutrition are many:
Improved energy and feeling of wellness
Strengthened immunity
Sharpened mental focus
Stronger bones and muscles
Improved weight control, digestion and regularity
Better cardiovascular health
Reduced incidence of mood swings and depression, and so much more
Along with good nutrition, daily exercise helps combat obesity. A stroll through the neighborhood or a bike ride in the park promotes cardiovascular health benefits for seniors while burning calories. Encourage seniors to develop an exercise regimen with their physicians' help that offers the best benefits specific to their physical abilities.
Caregiving provides a unique opportunity for caregivers of seniors to make a difference in more ways than one. Interacting with seniors - talking together, sharing meals, and participating in other activities -- cultivates overall healthy lifestyles that are crucial to helping seniors live independently in their own homes for as long as possible.
References:
YMCA of the USA. The Y recognizes national childhood obesity month. Retrieved on February 7, 2012, from ymca.net/news-releases/20100827-childhood-obesity-awareness.html.
Comfort Keepers. Senior nutrition: balanced nutrition leads to a healthier life. Retrieved on February 8, 2012, from interactivecaregiving.com/senior-nutrition.
Caring Right at Home. Seniors aren't spared by today's obesity epidemic. Retrieved on February 8, 2012, from caringnews.com/pub.59/issue.1641/article.6925/
Dryden, Jim. Washington University in St. Louis - Newsroom (2012). Diet-exercise combo best for obese seniors. Retrieved on February 8, 2012, from news.wustl.edu/news/Pages/22091.aspx.