Seniors: Tips for Healthy Eating

The normal aging process instigates changes throughout the body. Perhaps the most important change seniors undergo relates to nutrition. As a body ages, so does its nutritional requirements. Seniors may need to adjust vitamin and mineral intake depending on their gender, metabolic rate and for disease management purposes. Depending on a senior's individual needs, caloric intake may need to be monitored to ensure good health.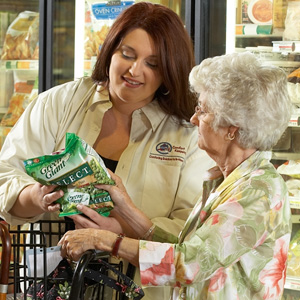 As if these changes are not enough, other barriers of healthy eating may arise. Taste buds change with age making some foods less desirable. Medication and even some medical conditions seniors experience can cause loss of appetite. Some seniors may feel less apt to prepare healthy meals for themselves. Preparing meals and eating alone can be lonely. They may find cooking for one cumbersome and resort to quick meals with little nutritional value. For these reasons, seniors are at risk for malnutrition as well as subsequent physical and mental complications from lack of calories and nutrients.

Comfort Keepers® leads our industry in caring for the elderly population. Our caregivers know good nutrition is the foundation for seniors trying to achieve the goal of living independent lives at home. Caregivers are able to help seniors achieve this through Interactive Caregiving(TM) - not merely keeping a watchful eye on seniors they care for, but joining seniors in grocery shopping and meal preparation. Knowing that companionship stimulates appetites, caregivers often dine with clients.

These actions foster a greater sense of wellbeing in seniors, making them feel valued and secure. But, Interactive Caregiving is not just a concept for professional caregivers. Comfort Keepers encourages family caregivers to consider the same techniques when caring for their loved ones. Cooking and eating together can become an activity that is anticipated by both the caregiver and the one being cared for. Encouraging a senior loved one to participate in shopping and dinner preparation is a good way to teach them the value of healthy food choices without seeming overbearing or intrusive.

To help, Comfort Keepers suggests following a food pyramid designed especially with seniors in mind. When followed in conjunction with the advice of a senior's health care provider, this pyramid ensures seniors know what types of foods they should consume in order to foster the best health possible. The food pyramid can be found by following this link: http://interactivecaregiving.com/senior-nutrition.

The benefits of healthy eating are an important part of overall good health. Healthy, well-balanced diets support physical strength, mental wellbeing, increased immunity, and cardiovascular health. Those who consume regular nutritious meals are less susceptible to fatigue and bouts of depression, and are able to maintain adequate weight control. For seniors, healthy eating becomes imperative in sustaining independent lifestyles within their own homes.