Contact an office in your area »
August 19, 2015
In-Home Care Offers Cost-Effective Option for Aging in Place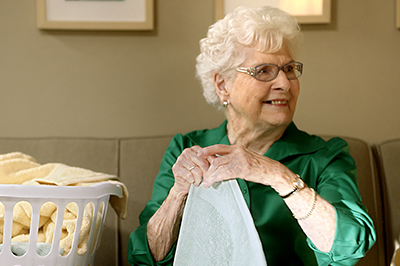 Most families today are unaware of the wealth of options available when considering care for senior loved ones. When seniors begin to demonstrate difficulty with certain daily tasks, families may automatically believe that it is time for assisted living or a nursing home. However, they may not realize exactly what that entails or that these are not necessarily the best options for every senior. Today, the senior care industry and new technologies make it possible for older adults to continue to live in their own homes safely and with assistance.
Why is this important? An American Association of Retired Persons (AARP) study showed that 90% of all older Americans preferred to remain in their own homes as they age, and many seniors dread the thought of going into a nursing home. The reasons are understandable; aging in place has many benefits. Seniors who remain in their own homes as they age enjoy the consistency of belonging to communities where they may have lived for many years surrounded by friends and families. This offers both emotional and social benefits as they have an already established support network. Overall, quality of life is better when seniors are as independent as possible and can participate in their communities in a meaningful way. Remaining in the home also avoids the stress of relocation and acclimating to new environments, and, even more compelling: aging in place can be cost-effective.
Since many seniors own their homes outright, they may not have mortgage expenses. Even if they are paying a mortgage, the expense may be cheaper than the fees for assisted living, which are usually not covered by Medicare. On average, the monthly cost of an assisted living facility in 2014 was $3500. This cost increases when you add additional services, such as cleaning, cooking, and so forth, which are sold a la carte. Nursing home care, which is also generally paid out of pocket, can be quite costly. Data from 2009 show that staying in a nursing home at an average cost of $5,243 per month, was more than five times as costly as aging in place, at an average cost of $928 per month.
What's more, many seniors who are placed in assisted living or nursing homes could age in their own homes with a few home modifications and assistance with activities of daily living. Many families who are considering care for their loved ones do not realize that assistance with daily living activities is not automatically provided when the senior moves into assisted living. These are generally add-on services. In this respect, aging in the home can also be more cost-effective than receiving this same assistance in an institutional setting. On average, in 2009, out-of-pocket monthly costs for seniors to obtain assistance with daily activities in their own homes was $554 versus $1065 in an institution.
For seniors who wish to remain in their own homes and continue to be part of their communities, there are many options. In-home care can be a viable, cost-effective solution for those who may need some assistance to help keep them independent participants in their communities. As the seniors' needs change, the care provided in the home can adapt to those changes to provide more care and services to help keep them safe and healthy in their own homes. For more information on how in-home care can help your loved one and adapt to his or her changing needs, contact your local Comfort Keepers® today.
References
American Association of Retired Persons. (2011). Aging in place: A state survey of livability policies and practices. Retrieved from AARP.
Crary, D. (November 21, 2011). Aging in place: A little help can go a long way. USA Today. Retrieved from USA Today.
Genworth Financial. (2018). Genworth 2018 cost of care survey. Retrieved from Genworth.
U.S. Department of Housing and Urban Development. (Fall 2013). Measuring the costs and savings of aging in place. Retrieved from Huduser.
---

Contact an office in your area »
Sign up to receive helpful info right to your inbox.
We understand choosing an in-home care provider can be a difficult decision, and we want to make your journey as easy as possible. We're here to support you by providing helpful senior care tips and information on in-home care and senior health and wellbeing topics.
First, let us know when is care needed: