Comfort Keepers provides in-home senior care that enriches our clients' lives and elevates the human spirit through joyful everyday moments. If you have a caring, loving spirit and find joy in helping others, you possess key characteristics that are essential to being a Comfort Keeper®.
Search for available positions in your area.
Enter your city, state or zip below.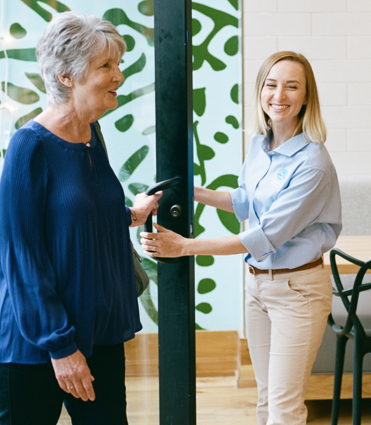 We're Hiring Both Full-Time and Part-Time Caregivers.
---
Because our clients' needs don't always follow traditional business hours, Comfort Keepers grants unique flexibility in regards to hours. Whether you pursue a full-time or part-time job, you will receive competitive pay and benefits*, along with the training you'll need to have a positive impact on others.
*All Comfort Keepers offices are independently owned and operated. For more information on benefit details, check with your local office.
Search for positions in your area
Our Care Services
For more than 20 years, Comfort Keepers® has been dedicated to providing the highest quality in-home care to those who need a hand with daily life and activities. Comfort Keepers® caregivers travel to client homes to help seniors achieve a greater quality of life through care, companionship and moments of joy whether big or small.
Caregiver services may include:
Meal preparation and cooking
Performing light housekeeping
Transporting clients to and from appointments and social events
Running errands
Helping with bathing, dressing, and hygiene
Reminding the client to take their medication on time
Helping with feeding and other everyday tasks
Tracking your client's condition and reporting changes to your supervisor
Providing live-in or overnight care (shift differential provided)
Assisting with Alzheimer's or dementia care
Offering respite care to relieve family caregivers
Conversation and companionship
(Services may vary by location.)
---
Hear from our Caregivers
"I've never worked for a company like this. I came to Comfort Keepers five years ago. It's the best job I've ever had in my life. I've learned so much about myself, by being a caregiver."
- Lynn Merwin
"I kind of just fell into caregiving. I was looking for a job. My aunt was a caregiver, and she said you'll either love it or you'll hate it. I started and I fell in love with it, and fell in love with Comfort Keepers.
- Madison Womack